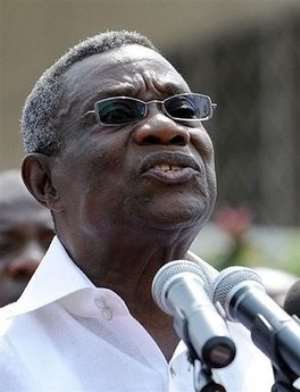 President John Atta Mills has sent a serious warning to the main minority party that he is the only President in Ghana at the moment and so will deal decisively with officials if they are found wanting. The presidential spokesperson, Mr. Mahama Ayariga told Peace FM's Kokrokoo morning show that, the President gave the warning in reaction to the manner the minority side in parliament had hinted to take the law into their own hands and the controversy surrounding ex-president Kufuor's cars and his office premises.
In an interview with the host of the show, Kwami Sefa Kayi, Mr. Ayariga said, the President is unhappy with the minority statement which stated "we will advise ourselves" if the president does not move swiftly to put in place measures to curtail the recent spate of violence in the country. He said, the minority's statement shows they can take the laws of the state into their own hands and that obviously provoked the President. He added that the President is also not happy about the way ex-president Kufuor wanted to keep state cars of his choices, as well as the manner of choosing his office premises.
According to him, Professor Mills is the only president in the country, so the ex-President has to consult or ask him before using any state property. He said, there has not been any approval from President Mills for ex-president Kufuor to use any property so Mr. Kufuor has to wait at the right time for the President to approve of his retirement package.