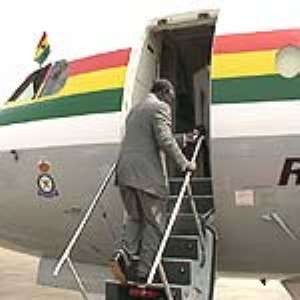 Former president Kufuor is in Switzerland to deliver the key note address at a conference on security, diplomacy, aid and finance, in situations of conflict and fragility.
About 200 representatives from 40 countries with specialization in foreign affairs, defense, policing, development, finance, trade and justice will be attending the conference.
The former president left Accra shortly after he was named as a member of the World Bank panel tasked with making recommendations on how the institution can best fulfill its mission of reducing global poverty.
Mr. Kufuor's spokesperson, Frank Agyekum, told Joy News the selection of the former president was based on his contribution to the reduction of poverty in the country.
"Former president Kufuor has been known for the kind of strides he made for this country and for Africa in terms of economic and political governance."
The World Bank Country Director, Ishak Diwan told Joy FM's Super Morning Show host, Kojo Oppong Nkrumah, the panel is also expected to make proposals to reform the governance of the World Bank to meet contemporary demands.
He said the proposals of the panel will be presented to the shareholders of the Bank for approval.
Other panel members who will be working with Mr. Kufuor are former Mexican president Ernesto Zedillo, Japanese International Co-operation Agency, Sedako Ogata, and Pascal Lamy, Director General of the WTO.
Story by Malik Abass Daabu