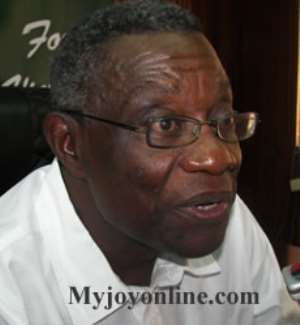 The NPP Member of Parliament for the Bimbilla constituency, Hon. Dominic Nitiwul is calling President John Mills to come clean on eye defects he may be suffering from.
He says his call is founded on the huge font size used in the writing of the President's speeches.
During this year's Independence Day parade, the lenses of the media caught the President's prepared speech as he addressed the nation and broadcasted live pictures of the size of the text of the President's speech.
Hon. Nitiwul says the font size used in writing the president's speech suggests not all is well with the nation's Chief Executive.
He thus requests President Mills to disclose how much the state is spending on his sight in particular.
According to the Bimbilla MP, his request is borne out of concern for the President's health, which was a big campaign issue prior to the December 2008 elections.
Mr. Nitiwul's comments come as Ghana marked World Glaucoma Day on March 12 2009.
He says he has observed President Mills almost always struggles to read out his speeches in public, thus making it imperative that he comes out to explain to Ghanaians if he has any sight problems which could put him in a compromising situation on an international platform.
"I believe it is right to call on the people handling the President particularly the speech writers to tell us why. What's so special about the President's sight that they make the font so big I don't understand… if it's that he has problems with his sight, they should let us know we can accept it and if it is not going to impede his work, let us know we want to accept it."
He noted that since the President promised Ghanaians an accountable and transparent government, "if it is something that is wrong with him he should be the first to come out and tell us".
Hon Dominic Nitiwul hinted that if after several days of campaigning to have the President tell Ghanaians the real state of his eyesight; he will raise the matter before Parliament.
Meanwhile, a leading member of the ruling NPP, Dr Tony Aidoo has slammed the NPP MP over his demands on the President's speech writers.
He said Hon Nitiwul has no business making such demands.
"It's mischievous, it's malicious and I believe that our country does not deserve it. He is the pone who has raised the issues about Professor Mills' health when there is no cause for raising that issue".
Mr. Aidoo called on Hon. Nitiwul to first subject himself to the same checks before requesting the President to do same.