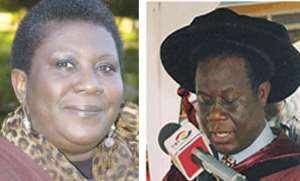 CREDIBLE Information reaching The Chronicle indicates that Professor Mansah Prah, Dean of Faculty of Sciences at the University of Cape Coast (UCC), will be replacing Dr. Samuel Obeng Apore, Rector of the Takoradi Polytechnic (T-Poly).
Sources at the UCC and the Takoradi Polytechnic confirmed that she was most likely going to replace the embattled Rector. Professor Mansah Prah, a native of Prestea in the Prestea Huni Valley District, is said to be married to Professor Yakubu, a lecturer of Physics at the UCC and one time Head of the Physics Department at the university. The Chronicle also gathered that Professor Prah is a US-trained scholar.
Meanwhile, when the Rector of the polytechnic, Dr. Obeng Apore, was contacted by this reporter to confirm the story, he had this to say, "I have no idea who replaces me, it is the council that decides, and the council is yet to be constituted."
Dr. Apore told this reporter that after the council had been constituted, the school would then advertise for the position, which will have to be decided by the council. "It is the council's decision," he reiterated.
When The Chronicle contacted one of the lecturers of the school (name withheld), he disagreed, and said that the advertising for the position was just a mere formality. According to him, the one to occupy the position is usually known before the council advertises in the newspapers.
Earlier information picked up by this reporter at the Polytechnic, indicated that Professor Yeboah, an Environmental Studies Lecturer at the Science Faculty of the UCC, was being considered for the position, because of his alleged strong links with the Chairman of the Polytechnic Council, Professor Mireku Gyimah, who is also the Vice Chancellor of the University of Mines and Technology (UMAT) at Tarkwa.
Professor Yeboah is also said to be a classmate of Dr. Apore, whose tenure of office as the head of the school will be ending in October this year.
Dr. Apore, despite his unpopularity in the school The Chronicle learnt, was also backing the bid of Professor Yeboah for the position.
Apore came under severe attacks recently, by workers of the polytechnic, due to his alleged mismanagement of the school.
He became a subject of investigation by the Bureau of National Investigations (BNI).
He would not comment on the subject until the BNI establishes the facts of the matter.
Even before the recent grumbling among the workers, which resulted in the BNI investigations, there was also an uproar staged by the students of the school, demanding that Dr. Apore leave office.