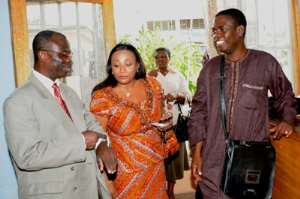 Information Minister, Mrs Zita Okaikoi (middle), flanked by Mr D A Y Sampong (left) CD, MOI, and Mr Kwesi Pratt Jnr (right), Chief Editor, Insight
The Minister for Information, Mrs Zita Sabah Okoikoi, today visited some prominent private print media in Accra, namely the Daily Guide, the Statesman and the Insight newspapers to acquaint herself with the business of the institutions.
This forms part of her familiarisation tour of institutions under her Ministry. Previous tours took her to the Graphic and Communications Group LTD and New Times Corporations, respectively.
At the Daily Guide, Mrs Okaikoi expressed her pleasure to learn at first hand, the strides the Paper makes to sustain the development of the media.
The Hon Minister stated that both the government and the media have to collaborate with each other for a common goal to develop the nation, stressing that the media is channelling effort in that regard.
Mrs Okaikoi was quick to admit that there are some challenges which need to be addressed to speed up the present democratic dispensation the country is currently enjoying.
The Editor of the Paper, Mr Francis Kwaicoo, debunked the perception that the paper is politically inclined to a certain political party.
Mr Kwaicoo indicated that the paper is doing everything possible to improve on its readership by introducing more products to satisfy their numerous clients in almost every region in the country with a daily circulation of over 30,000 copies.
The Chief Editor of the Daily Guide, Mr Fortune Alidu, also pointed out that the Paper is entirely privately established to help any Government that comes to power to bring the country's development to international standard.
In her response, the Hon. Minister praised the efforts of the Paper by putting the Government on its toes and disagreed that by 'doing this, it tags the paper as siding with certain political parties.
The Minister of Information, therefore, assured the media of her Ministry's support to promote credibility among the various media institutions by instituting capacity building for journalists for selected media organisations.
The Minister was later conducted around some of the facilities including the Printing Press and the Graphics Department of Daily Guide.
The Minister's next point of call was the Statesman Newspaper where she met with management and promised to have a good cordial relationship, all in the spirit of promoting democracy and improve the standard of reportage as well as providing coverage of government policies.
The General Manager of the Stateman Newspaper, Mrs. Annaliza Agyare, hinted that 'building for a better Ghana for the generation yet unborn should be the priority of all media organisations'. The General Manager entreated other media institutions to be objective and fair in their reportage.
The Honourable Minister finalised her tour at the Insight Newspaper, where she interacted with the Chief Editor of the Paper, Mr Kwasi Pratt Jnr, who acknowledged the presence of the Minister and entreated her to work assiduously to lift the image of the media.