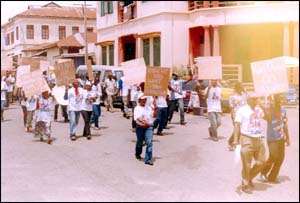 The demonstrators Aggrieved New Patriotic Party (NPP) supporters at the Atwima Nwabiagya constituency in the Ashanti region have petitioned the party's National Executive Committee (NEC) to urgently dismiss its Constituency Chairman, Nana Kofi Owusu from the NPP, for the sake of internal peace and cohesion.
On Monday, the angry supporters, mostly youths clad in assorted party paraphernalia and hoisting red flags, staged a heated but peaceful demonstration at the party's regional office in Bantamaa to press home their objectives.  
Numbering hundreds and wielding placards, of which some read 'Kofi Owusu is evil', 'No way for Kofi Owusu' and 'Save Atwima Nwabiagya from total destruction' among others, the eyed-red supporters marched through the principal streets of Bantama amid war songs.
After several hours of spirited street protests, Appiagyei Danka, an elder in the constituency presented a two-page petition on behalf of the demonstrators to the regional officers for onward submission to the party's headquarters in Accra for attention.
Briefing DAILY GUIDE afterwards, Appiagyei Danka, accused Nana Kofi Owusu of abandoning the party and flirting with the ruling National Democratic Congress (NDC) since the NPP lost power in the last elections.
He said Nana Kofi Owusu confirmed his flirtation with the NDC when he openly celebrated the victory of Nana Asiamah Poku Afrifa, Toasehene, and a known sympathizer of the ruling party as Ashanti regional representative to the council of state.
Danka, who led the demonstrations, further accused the constituency chairman of wantonly breaching article 3 sub section D 1-8, which forbids party members from initiating legal proceedings against the party without first having exhausted the grievance procedures spelled out in its constitution.
Arguing that Nana Kofi Owusu has flouted  this article with impunity several times, the protest leader disclosed that on the eve of the party's presidential congress in December 2007, he went to court for an injunction which led to the constituency being excluded from the congress.
Again, Danka revealed that the chairman did the unimaginable by going to the Appeals court seeking nullification of the constituency's parliamentary primary results which was ably supervised by national officers of the party, led by the national chairman, Peter Mac Manu.
Still justifying why the chairman should be dismissed as soon as possible, Danka accused Nana Kofi Owusu of failing to heed to directives from the party's national office to reconcile members of the party.
Stressing that Nana Kofi Owusu is not a unifier, which is a vital trait of a good leader, he observed that his continuous stay in office would affect the progress of the party in the coming days.
Meanwhile, Nana Kofi Owusu when contacted denied the entire allegation, saying they are scheming of his opponents in the constituency.
He said that at the appropriate time, he would come public and respond to all the allegations the group had leveled against him.
From Morgan Owusu, Kumasi