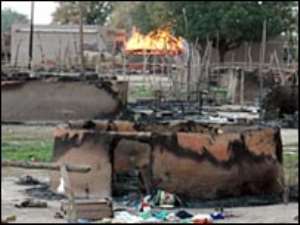 Key powers at the United Nations have failed to agree on a statement asking Sudan to reverse its decision to expel aid agencies.
The UN Security Council was holding its first meeting since the International Criminal Court issued an arrest warrant for President Omar al-Bashir of Sudan.
Sudan's decision to expel 13 aid agencies has been widely condemned.
Khartoum's UN ambassador denied the expulsions were politically-motivated, levelling accusations at the agencies.
"We have a full dossier of information against those organisations," Abdalmahmood Abdalhaleem Mohamed said.
"They are messing up everything as far as stability and security of Darfur is concerned. They are abusing the hospitality of the Sudanese people," the AFP news agency reported him as saying.
Council split
The latest criticism of Sudan came from US ambassador to the UN, Susan Rice, who called the move callous and reckless.
She said the move threatened the lives of innocents, and that the US was "gravely concerned" at the situation.
"The humanitarian situation in the country is already dire and this callous step threatens the lives of innocents already suffering from years of war and upheaval."
The key powers at the UN Security Council - Russia, China, France, the US and Britain - met to discuss a statement which called on Sudan to reverse the expulsions.
But diplomats say China, Sudan's key ally and trading partner, objected.
A delegation from the African Union and the Arab League is due in New York soon to ask the Security Council to suspend the war crimes case against Sudan's president.
The council is divided: China, Russia and African countries are in favour, says the BBC's Laura Trevelyan, at the United Nations.
They say the case undermines efforts to bring peace to Darfur, she adds, while the US, UK and France say there is no reason to halt proceedings.
The International Criminal Court (ICC) issued a warrant for Mr Bashir on 4 March, accusing him of war crimes and crimes against humanity in Darfur.
It is the first such warrant served against a serving head of state.