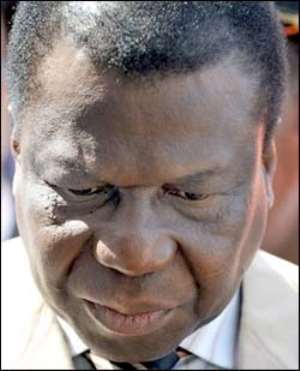 Joao Bernardo Vieira Guinea-Bissau's new leader Raimundo Pereira has appealed for international help to stabilise the country in the wake of the president's assassination.
The parliament's speaker, who was sworn in as interim leader on Tuesday, asked the world not to abandon his country.
He said that he would assume the functions of head of state until elections were held within 60 days.
President Joao Bernardo Vieira was shot on Monday by soldiers who blamed him for a bomb that killed the army chief.
Guinea-Bissau - a major transit point for Latin American cocaine headed for Europe - has been plagued by political unrest since it gained independence from Portugal in 1974.
The army denied it was launching a coup and has promised to honour the constitution.
Ibn Chambas, president of the 15-member regional bloc Ecowas, told the BBC's Network Africa programme that he was encouraged by the comments.
"The statement that the military has released indicates that they will stay out of the political affray and they have indicated what happened was not a coup d'etat, or even an attempted coup d'etat, it was a criminal act of assassination and I think there has been a very responsible position of the military," he said.
"We will urge them to continue to maintain this democratic, republican posture and accept civilian control to be the answer."
Moment of silence
Before taking the oath of office on Tuesday, national assembly leader Mr Pereira said Guinea-Bissau was "facing a very delicate situation".
He called on MPs "to assume their responsibility toward the nation".
"Since the era of democracy came to Guinea-Bissau, most presidents have been unable to finish their mandate," AP news agency quotes him as saying.
"My time in office will be temporary, but I will do my all to organise elections in time."
Lawmakers in the capital Bissau also observed a moment of silence for President Vieira and for the army chief-of-staff Gen Tagme Na Waie.
Soldiers killed President Vieira early on Monday in an apparent tit-for-tat attack after Gen Waie was blown up in his headquarters hours earlier.
Mr Chambas said the country would need financial and technical support to be able to conduct credible elections within 60 days.
"Ecowas will lead the way," he said.
"We will work to mobilise the international community, African Union, United Nations, the EU and others to be able to provide Guinea-Bissau with the resources that it needs to ensure that we have successful elections."
The UN Security Council said in a statement the 15-member body "condemns in the strongest terms the assassinations".
BBC