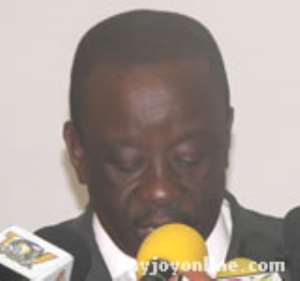 Former Defense Minister Albert Kan-Dapaah has accused the government of harassing soldiers perceived to be sympathisers of the opposition New Patriotic Party (NPP).
Mr Kan Dapaah made the comment when he was contributing to discussions on the floor of Parliament.
He condemned what he said had been the Mills government's deliberate transfer of some military officials because the officers had been considered foes of the ruling party.
Mr Kan-Dapaah's comment comes weeks after reports hit the media of the suspension of the training of some 400 army recruits at the Elwak Stadium.
The Director of Public Affairs at the Ghana Armed Forces, Col. E. K. Nibo responding to the issues then said inadequate logistics necessitated the cancellation of the programme.
Resistance
The former Defense Minister, who is also the Member of Parliament for Afigya Sekyere West, served notice the NPP would resist the harassments if they persist.
He cited the Bureau of National Investigation's arrest of the Managing Director of the National Investment Bank (NIB), Mr Daniel Gyimah, stressing, the government is using the security services to present an unnecessary scare to businessmen in the country.
The NIB boss was confined in BNI custody for five days even after executing the bail bond his lawyers had secured from the court. He is currently being tried for causing financial loss to the state to the tune of GH¢60,000.
Issues of harassment and witch-hunting of the opposition have in recent times dominated discussions in the media with the NPP claiming a bad precedence is being set by the ruling government.
Reports of car snatching by persons who pose as national security operatives have received gales of criticism from the public.
Although government has rendered apologies for each of the incidents, describing them as excesses, the NPP believes it is a deliberate ploy to harass its members.
Nana Akufo-Addo, flag-bearer of the NPP for Election 2008 and his running mate, Dr Mahamudu Bawumiah, have been victims of such incidents.
Meanwhile discussions on the floor of Parliament continue on the president's first State of the Nation Address to Parliament.
Story by Fiifi Koomson