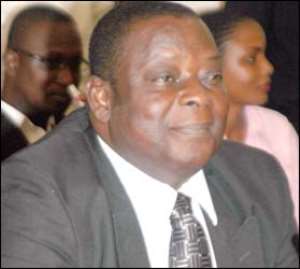 Mark Woyongo- Upper East Regional Minister The people of Upper East Region, especially National Democratic Congress (NDC) members and sympathizers, over the weekend gave an enthusiastic welcome to Mark Woyongo, the new regional Minister when he visited the area.
The Minister might have heaved a sigh of relief, after a large crowd of residents from Bolgatanga, Navrongo and other districts welcomed him at Pwalugu, to signify their pleasure at his elevation and their readiness to cooperate with him to develop the region.
This follows many claims and group discussions by various sections of the public that he performed badly at his vetting session.
At the Regional Co-ordinating Council in Bolgatanga, Mr. Woyongo addressed a large gathering of NDC supporters and members of the media, saying, though the vetting was a "storm in the tea cup", he knew he would go through because his conscience was clean.
"I take a clue and counsel from the words of the Honourable Member of Parliament for Ningo Prampram, E.T. Mensah: 'As you go up north to work, you must be careful of your people; there would be rumour mongering, anonymous letter writing and all kinds of gossip in exchange for favour. You must be careful if you want to succeed.' By this, I mean to say that I would act with care."
He promised to work with anybody that has a role to play in the region, irrespective of their political leanings and religious or ethnic backgrounds, just like the President had promised.
"As I keep saying, our enemy is not the man or woman on the other side of the political divide, but poverty, disease and illiteracy that keep staring at us everyday.
These are what we should all be fighting to eradicate, because they do not discriminate, but affect everyone in society. I have promised and I mean it, that I will work with whoever is prepared to work to improve on our living standards."
According to him, the NDC cannot afford to lose power in 2012, hence the need for all party members and sympathizers to start cooperating with people from other parties to increase the NDC's membership and support-base to win the 2012 general elections as well as all the seats in the Upper East Region.
Mr. Woyongo reiterated his desire to work hard to ensure lasting peace in Bawku, and therefore called on all stakeholders, including the two main factions and their followers, the regional House of Chiefs, the district assembly, security agencies, NGOs and the media to continue their efforts towards restoration of peace in the area.
"Once peace returns to Bawku, the area will start developing and will soon become a city whose people are noted for their business nature and hard work."
Though the gathering applauded his desire to eradicate poverty in the region by exposing the potentials in the area to the international investment market, most of them were not enthused when he said he would drive away poverty to Burkina Fasso, thereby making them wonder whether he really believed in the African unity and development that President Mills has promised to support.
"The region has so many resources, including the Sheanut tree, stone and marble quarry and gold at Nangodi that need to be exposed and marketed to attract investment to the region. If this is done, we will be driving poverty away to Burkina Faso, he stated."
From Ebo Bruce-Quansah