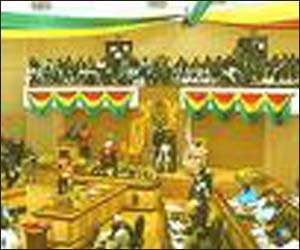 Parliament of Ghana THE SALE of Ga lands to private individuals became the subject of debate on the floor of Parliament yesterday when in thanking the President for his State of the Nation Address, the MP for Tema West, Mrs. Irene Naa Torshie Addo expressed disappointment that the President did not touch on the subject in his sessional address to Parliament.
She opined that the current administration made the land issue one of the subjects of their political campaign and promised to return unused lands to the original owners when given the mandate.
Based on this promise, she said the people of Ga gave their mandate to the National Democratic Congress (NDC) with the view that their lands would be returned to them.
Conversely, she expressed surprise that the issue of land that has the tendency of pitching one tribe against the other was not given justice in the President's address.
Mrs. Addo submitted that there were other regions from which the government had acquired land for developmental purposes, and wondered why the NDC in its manifesto mentioned the Greater Accra Region in particular.
The MP argued that it was improper for the NDC to say in their manifesto that the erstwhile NPP government had sold Ga lands to individuals when the sale of Ga lands pre-dated the NPP era.
Explaining, the Tema West MP said during the first Republic, Dr Osagyefo Kwame Nkrumah acquired some parcels of land for developmental purposes and that not all the lands had been used as of now.
Therefore for the NDC to make politics out of it as if it was the past government that took these lands from the people, was completely out of place.
She therefore reminded President Mills of his campaign promise, asking him to "do as he promised".
The MP for Tamale Central, Inusah Fuseini raised an objection to the Tema West MP's statement, saying the sale of lands to members of NPP was a statement of fact, and wondered why she was demonstrating falsehood.
He therefore challenged the MP to bring evidence to the contrary.
In contributing to the motion, the MP for Tamale South, Haruna Iddrisu touched on the state of the economy, and cautioned members to desist from playing politics when it comes to matters of the economy.
The Minister for Communications conceded that President Mills in his address admitted that all was not well and asked Ghanaians not to despair and panic in spite of the global downturns associated with the recession, hence all must commend the President for being forthright with Ghanaians.
Hon Iddrisu lauded government's intention to accelerate a programme for common transparent ICT platform to enhance government business and promote transparency and accountability, stressing that such a move would reduce the cost of doing business in Ghana.
By Sheilla Sackey & Awudu Mahama