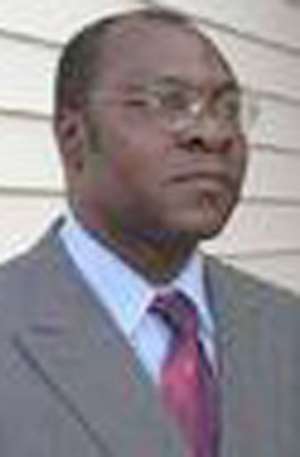 The Former Communication Director of Nana Akufo Addo's Campaign Team, Dr. Kobina Arthur-Kennedy has urged the government not to adopt wholesale cabinet reshuffling, because under the country's system of governance it is probably not helpful.
Dilating on his argument, he said under the presidential system of government, what should really be done to non-performing Ministers was to change them, but not to reshuffle them.
Speaking to The Chronicle in an interview in Accra recently, he said the reason for his argument was that a Minister needed some time to adjust to his or her position and that constant reshuffling could affect government work.
He continued that the danger of reshuffling was that one might witness Ministers being sent to Ministries where they have little knowledgeable about.
"When parliament approves the appointment of a minister for a particular ministry, not all ministers are equall so not every minister is qualified for every ministry, so for example somebody who may be qualified for Women's and Children Ministry may not be qualified to be Minister of Finance because that person may not have a good grasp of the area," he added.
He intimated that "I think theoretically whenever we get to do those reshuffling, it raises the question as to whether when you do the reshuffling somebody who was approved two years ago as the Minister of Agric can best serve as Minister of Health".
Responding to the notion that staying at one Ministry for a long time could make a Minister corrupt, he rhetorically inquired -"Why don't you extend the argument to say that when you stay in government too long you become corrupt rather than a particular Ministry?"
Dr. Arthur-Kennedy maintained that the flipside of that argument was that when one stays in a ministry for a very long time the person rather gains a great deal of experience citing an example as Nana Addo Dankwa Akufo-Addo whose long stay in the Foreign Ministry saw some remarkable achievements.
"Everybody will tell you that in your first year in a Ministry, there are a lot of things you don't know but by your third year you become comfortable in the Ministry. Otherwise, why are we allowing the President to stay in the presidency for four years," he asked.
He said he had spoken to a lot of Ministers who have indicated to him that a Minister needed at least 18months to adjust in a Ministry, so it does not make sense to reshuffle cabinet Ministers just after 18months.
Using the immediate past government as an example, he said the reshuffling of the ministers just after six of them had gone to stand for NPP presidential elections, meant the government was starting afresh.
"I am not saying it is only Kufuor, it happened with Rawlings too, what is done generally in the US, for example, is that they pick their Ministers and along the line they change the ones who are not performing well and leave the ones who are performing well," he argued.