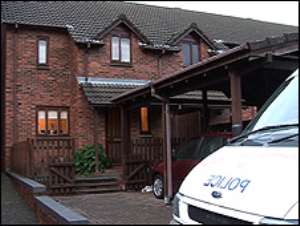 David Pyatt cleaned the house before calling police
A man lived with his wife's dead body in their Hampshire house for more than 10 weeks before contacting police, an inquest heard.
David Pyatt, 59, tried to kill himself several times after making the discovery at their home in Bramble Walk, Lymington, on 4 September 2008.
His attempts failed and he said he had then "gone to bed for five weeks".
He said he eventually "recuperated" and called police who discovered 54-year-old Yvonne Pyatt's body on 17 November.
He told the police operator his wife had killed herself and added: "Really for four or five weeks after that I stayed with her and now I have recuperated a bit and I need to sort it out."
Electric cable
The hearing at Southampton heard that the house was "spotless" when officers arrived and Mr Pyatt told them he had been vacuuming and had cleaned his wife's body.
Mr Pyatt was arrested by police and questioned for two days on suspicion of aiding a suicide.
He told officers he tried to kill himself by throwing an electric cable into a bath and by hanging himself, but failed.
Mr and Mrs Pyatt moved to Lymington six years ago and were living off their savings, but after a few years the money ran out and Mrs Pyatt became depressed.
On 4 September she hanged herself with a washing line from the doorframe of an upstairs bedroom.

He had clearly just frozen into inactivity when his wife's death occurred
Coroner Keith Wiseman
Officers discovered a note signed by them both, which hinted that there had been a suicide pact between the couple.
It read: "Sorry about the mess we are leaving but we did not have any choice."
But Det Sgt Rob Spall said Mr Pyatt claimed he had signed the letter later.
"From his account his intention was to kill himself after she died but he did not carry that through," Det Sgt Spall said.
He explained that Mr Pyatt had no significant mental health issues which had caused him to live with his wife's body and there had not been any foul play.
Det Sgt Spall said: "There is no sinister motive to it.
"Mr Pyatt lost almost everything with his wife's death and that perhaps led him not to want to let go of her, to lose the body."
Recording a verdict of suicide, Southampton coroner Keith Wiseman said the circumstances of the death were unusual.
He said: "He had clearly just frozen into inactivity when his wife's death occurred through the shock of what happened.
"It must have been a quite extraordinary experience and one difficult to recover from."