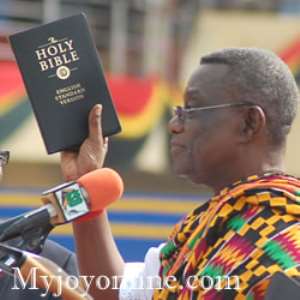 End of service benefits for ex-government functionaries dominated debates on the floor of Parliament on Wednesday.
While Members of Parliament are still pressing for their packages to be left untouched, reports from the Office of the President suggest plans are afoot to constitute an emoluments committee to review the benefits for the MPs.
President Mills has directed that MPs be paid a lump sum equivalent to four months' salary for each full year served multiplied by the number of years in office as MP.
Although the president did not touch on the subject at his sessional address to Parliament, debate on the floor in the house on Wednesday to discuss the address rather turned into an ex-gratia forum.
Deputy Minority Leader Ambruce Derry told the house that President Mills' decision to slash the emoluments of MPs was rather arbitrary and unconstitutional.
He said the revision of their benefits would compromise their independence.
After a long-drawn debate on the issue, a motion was moved to clear the seventh report of the Appointments Committee.
Meanwhile committee has recommended in its latest report, the approval by consensus of four ministers designate.
They are Hon Albert Abong, Minister-designate for Water Resources, Works and Housing; Mr Kwesi Ahwoi, Minister-designate for Agriculture; Hon Azong Alhassan, Minister-designate at the Presidency; and Mr Mark Woyongo, Upper East Minister-designate.
Although the house is yet to consider the report on the nominees, Joy FM's parliamentary correspondent Araba Koomson said the nominations of all four are likely to receive the assent of the house.
Source: Story by Fiifi Koomson