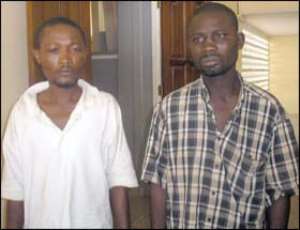 Adu Gyamfi Agyeman (L), Manasseh Nyumu-Tei The police have arrested two persons and retrieved ten mobile phones and three ladies' purses from them at Nsawam in the Eastern Region.
Briefing the media at the National Police Headquarters in Accra, the Highway Patrol Commander, Superintendent Owusu Donkor said the two; Manasseh Nyumu-Tei and Adu Gyamfi Agyeman were seen around the Nsawam prison gate at about 2pm in a Tico taxi cab number GS 5797 Z and were stopped for a routine check.
Adu Gyimfi was driving whilst Nyumu-Tei was at the passenger side next to him.
During a search, ten mobile phones, three ladies' purses and a bunch of keys were found in the letter box of the car.
When the two were questioned over the ownership of the items, Nyumu-Tei answered that he was a mobile phone technician and that he was taking the phones to Accra for repairs.
The police however became suspicious of the two and subjected them to intense interrogation which led Nyumu Tei to reveal that they had stolen the phones from different locations including Abeka-Lapaz, Achimota, Pokuase and Nsawam.
The two indicated that they steal from dress-making shops, food vendors and restaurants among others.
Supt. Donkor said the duo's modus operandi was to arrive at their target location in a cabbie and pretend to be in a hurry.
Nyumu-Tei would then approach their victim and engage him or her in a serious conversation either as a customer or a prospective customer, whilst they are absorbed in the conversation; he picks their phones and bolts away.
He indicated that in one instance, Nyumu-Tei approached a seamstress and told her that he would like her to make him a dress for his daughter. As he kept describing his daughter to the woman, he had long located the phone and managed to steal it without the woman suspecting him of any crime. He promised to later bring the child in for a dress fitting.
Ironically, the taxi with which they robbed victims of their valuables had the inscription "Obey the Law" embossed across the rear windscreen.
By Rocklyn Antonio