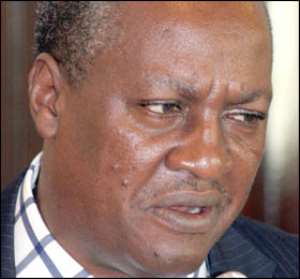 Veep John Mahama UNITED NATIONS World Tourism Organisation (UNWTO) has selected Ghana to host its World Tourism Day slated for September this year.
Conveying the message to Vice President John Mahama at the Osu Castle, the Secretary-General of the WTO, Francesco Frangialli said WTD 2009 emphasises the value of diversity and authenticity of tourism in a globalized world.
According to Frangialli, the time has come for tourism to be treated as a serious industry that could create jobs and generate income for the local people.
"Tourism has the capacity to meet the challenges of the local people particularly in Africa where poverty is rife," he said.
Frangialli, who was accompanied by Juliana Azumah-Mensah, Minister of Tourism, noted that the focus on climate change and the broader development agenda coincides with UNWTO's active support of the UN Millennium Development Goals (MDGs).
The WTD 2009 theme ranks high on the UN System Agenda and coincides with the 7th MDG, "Ensuring Environmental Sustainability" and the proclamation of 2008 as the International Year of Planet Earth which will extend to 2009.
Following the successful WTD 2007 theme, 'Tourism Opens Doors For Women', the General Assembly stressed the importance of World Tourism Day (WTD) to be conceived as a yearly campaign to raise awareness on the industry's constructive social role.
Vice President Mahama recognized the unique role tourism plays in projecting the image of a country, but was not happy with the low level of benefits from the industry.
He mentioned Kenya as an example of a country whose tourism sector continues to register high returns but the recent political situation has crippled the industry.
He therefore asked politicians to get their acts together if tourism is to succeed in Africa.
He lamented the low returns Ghana gets from tourism despite the high influx of tourists into the country, and blamed this on the over concentration of imported goods throughout the country.
Mr Mahama called for private-public partnership to ensure that tourism in Ghana becomes beneficial to the people, and pledged government's commitment to the success of the conference.  
Also present at the meeting were Bridget Katsriku, Chief Director, Ministry of Tourism; Ousmane Ndiaye, Africa Regional Representative of UNWTO; Stella Appenteng, President of Ghana Tourism Federation (GHATOF); and Erik Solheim, Norwegian Minister of Environment and International Development.
Erik Solheim came to lend his country's support to the new government and also consolidate an earlier Memorandum of Understanding (MOU) between the Norwegian Government and the Government of Ghana executed by ex-President John Agyekum Kufuor.
  By Wisdom Peter Awuku