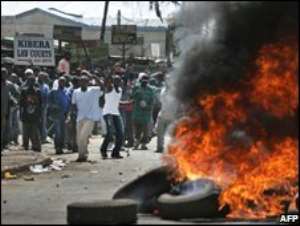 Kenya's prime minister says the country has two more months to establish a special court to try those implicated in post-election clashes.
Raila Odinga said Kofi Annan had agreed to extend the deadline.
Mr Annan brokered a power-sharing deal a year ago to end the violence in which some 1,500 people were killed.
Last week, MPs rejected a bill to establish the court despite intense lobbying by President Mwai Kibaki and his former rival, Mr Odinga.
Opponents of the bill said they had no faith in Kenya's justice system and that the suspects should be tried by the International Criminal Court (ICC) at The Hague.
No faith
An inquiry into the violence had ordered that the court be set up by March 1, or else Mr Annan would hand over a sealed list of suspects to the ICC.
"Annan had expressed willingness to delay the handing over of the names in the envelope to The Hague until Kenya has completely failed to handle the matter locally," Mr Odinga said on Tuesday.
Violence broke out after Mr Odinga claimed that the 2007 polls results had been rigged, but after weeks of talks, the rivals agreed to share power in February 2008.
The tribunal was recommended by a commission of inquiry chaired by Justice Philip Waki, which was established during the power-sharing talks.
Justice Waki gave Mr Annan a sealed enveloped contained a list of names of key perpetrators of the violence.
Meanwhile, a parliamentary committee has nominated members of the Independent Interim Electoral Commission (IIEC), which was formed after parliament dissolved the Electoral Commission of Kenya (ECK).
An inquiry into the 2007 elections had called for the dissolution of the ECK over the mismanagement of the poll which led to violent clashes around the country.
The committee nominated 39-year-old lawyer Cecil Miller to head the IIEC, which is expected to steer reforms in the country's electoral system.