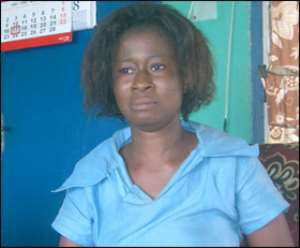 Ama Kyerewaa A 23-YEAR-OLD trader from Aboabogya Anwiam in the Ashanti region, who on Monday February 16 decided to get rid of her four-month old baby by dumping him in the forest, has found herself in the grips of the law.
Ama Kyerewaa's heinous act was uncovered when a tipper truck driver who was then plying the road heard the baby crying in the thick forest.
The driver, Eric Kusi Agyekum, at about 9am on Monday, heard the cry of the little boy in the forest near Ahwiaa in the Kwabre West district.
The driver, out of curiosity, parked his car and went into the bush where he found the baby and sent him to the Mamponteng District Police headquarters.
When news about the incident reached residents of Ahwiaa and Mamponteng, they assisted the police in identifying the suspect, who they knew had a baby boy about four months ago.
Armed with the information the police caused the arrest of the suspect who after interrogation admitted being the mother of the child but denied dumping him in the forest.
Briefing DAILY GUIDE, Superintendent of Police Comfort Boateng, the Mamponteng District Police Commander, indicated that since the suspect planned to kill the child the police needed to conduct thorough investigations to first find out the mental condition of the suspect.
According to her, the baby has now been sent to the Kumasi Children's Home to enable the police carry out their investigation.
The suspect explained that she left the child in the care of his father as there was some misunderstanding between them.
She indicated that after all efforts to get some money from the child's father to send him to hospital for medical attention proved futile, she decided to leave him with the father.
She said she had no idea regarding how the child was dumped in the forest.
From Stella Danso, Kumasi