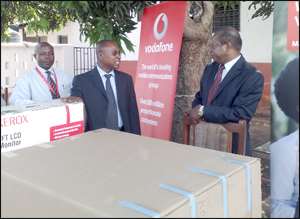 Officials of the University As part of its corporate social responsibility, Vodafone GT has donated a $300,000 printer to the University Of Ghana to aid the institution with its printing activities.
According to Isaac Kojo Abraham, the donation was part of the company's effort at reaching out to educational institutions and easing some of their capital intensive projects.
He indicated that Vodafone-Ghana was keen on developing a viable relationship with its stakeholders with a view to ensuring that it remains the telecom company of choice in Ghana.
He said even though Vodafone was yet to fully step onto the Ghanaian market it was ready to be part of their lives.
Mr A. T. Konu of the University of Ghana expressed sincere appreciation for the donation, noting that it was a major input that would enhance cost and administration issues.
From Business Desk