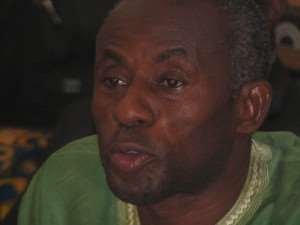 Collins Dauda Shortly after getting the nod of the Appointments Committee of Parliament, some members of the first batch of ministerial appointees reported to their various ministries yesterday.
One of such ministers was the Lands, Forestry and Mines Minister, Hon. Collins Dauda, who reported to his duty post for the first time since his confirmation and swearing-in by the President last weekend.
His first day in office was characterized by a meeting with both senior and junior civil servants at the ministry with which he has been associated since 1993.
Hon. Dauda during the familiarization engagement, called on staff to demonstrate a high sense of sincerity, loyalty, dedication and support towards achieving government's aim of sustaining Ghana's resources. "I can't win the war alone, it should be with you", he said.
Dealings within the corridors of the Ministry, he maintained, should be candid and genuine since, as he put it, he enjoys working with hardworking and trustworthy people.
The Minister told the staff he prefers paying those who would sincerely criticize so he can be on track as opposed to have sycophants mislead him with useless praises.
As a high ranking member of the Parliamentary Select Committee on Lands for 12 years, he assured staff that all members would be rewarded according to their efforts and promised that everybody's work would be given the necessary recognition.
"I will recognize every bit of work you do and where awards are due, we will do that", Mr. Dauda pointed out.
He congratulated a staff whom he said had worked between 1996 and 2000, for rising through the ranks to the position of Assistant Director, and expressed the hope that others would get similar opportunity.
Charging officials to educate the public on issues bordering on land, forestry and the mines, he pointed out that these formed the core of problems in the sector.
The Chief Director at the Ministry, Ahmed Bin-Salih g
ave the assurance that they would give of their best.
By Nathaniel Y.Yankson