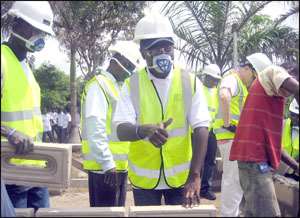 Newmont building visitor's summer hut Newmont Gold Ghana Limited has embarked on a GH¢7,000 voluntary project for the Akropong School for the Blind in the Eastern Region.
The project which involves the construction of a visitor's summer hut and painting of dining hall and girl's dormitory, forms part of the mining company's corporate social responsibilities.
The project was also part of activities marking this year's Day of Caring event.  The event is organized by United Way Ghana, a non-governmental organisation on February 14 every year to direct the spirit of love and compassion inherent in the St Valentine's Day tradition towards worthwhile community service.
The voluntary project was undertaken by about 80 workers of Newmont Gold Ghana Limited.  
"Our volunteers love to get involved in the Day of Caring because it encourages unity and teamwork," Yaw Antwi-Dadzie, External Affairs Officer of Newmont Ghana said.
He added: "We want to show those who do not know that despite visual impairment, these children are capable of doing near enough anything that a sighted person can do."
Mr Antwi-Dadzie said over the past, his outfit has been actively involved in the Day of Caring event. He mentioned places such as Katamanto Street Girls Aid Project, and Manya Krobo HIV/AIDS Orphanage, among others as some of the places that Newmont has carried out its corporate social responsibilities.   
Godwin Adiyi, a visually impaired employee at Newmont also shared his experiences with the students.  
Chairman of the Akropong School for the Blind, Osahene Osei Kofi Agyemang thanked Newmont for the gesture and appealed to other corporate organizations to emulate it. He said the school needs GH¢300,000 to expand its limited library facilities.
Students ranging in age from four to 45 years, and with varying degrees of visual impairment attend the boarding school in Akropong.  The school which started in 1945 with three children now caters for almost 400 students.