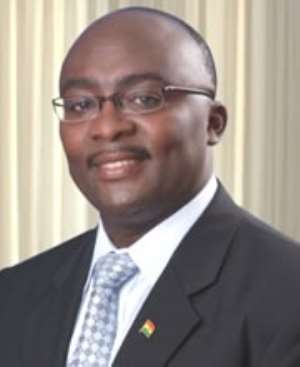 Dr. Mahamudu Bawumia, who was the running mate of Nana Akufo-Addo, the NPP presidential candidate in Election 2008, has underscored the need for African countries to take the issue of regional economic integration seriously.
For African countries to do anything significant, he said, they would need to integrate their economies in a better way to derive the desired benefits.
Dr Bawumia, who is a former Deputy Governor of the Bank of Ghana (BoG), made the call at the launch of the United Nations Economic Commission's Report on Assessing Regional Integration in Africa: Towards Monetary and Financial Integration in Africa.
The report, which is the third to be published, focuses on the theme of macroeconomic policy convergence, monetary and financial integration and Africa's regional economic communities.
The report, among other things, charged member states to muster the political will to mainstream regional monetary and macroeconomic objectives into their national development strategies.
Dr Bawumia lauded the report, saying that it provided a better assessment of what was happening on the continent.
Launching the document, the Chief of Regional Integration at the United Nations Economic Commission for Africa, Mr Joseph Atta Mensah, indicated that most of the participating countries of the regional economic communities were not able to attain the conditions necessary for the economic integration of Africa.
He said an assessment carried out by the commission indicated that most African countries had great difficulty in achieving the desired macroeconomic convergence criteria set by the regional economic communities.
He outlined some of the reasons as the poor performance of the countries external shocks, large budget deficits, lack of reliable statistics and poor growth performance of the various economies.
The report said Africa's ability to achieve monetary union remained much challenged.
It established that infrastructural deficiencies undermined trade and growth economically.
Several documents and meetings continue to point out that lack of adequate and quality infrastructure in roads, railways, electricity and other forms of energy, water, ICT and technology severely hamper the production and sale of goods.
According to the report, progress made in the area of the free movement of people remained modest, largely because unemployment remained very high in Africa and there were fears that such liberalisation would bring about asymmetric benefits.
Commenting on the report, the Director-General of the West Africa Monetary Institute (WAMI), Dr Temitope Oshikoya, said it was not possible for any country to stand alone in the integration process and stressed the need for a broader involvement of all stakeholders.
For his part, the Resident Representative of the African Development Bank, Mr Alieu Jeng said intra-African trade was very low and could not support the much talked about regional integration.