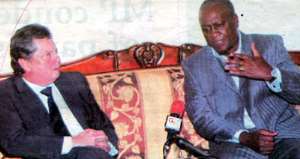 Vice President John Mahama (right) with Mr Fernando Serra
Brazil is to establish a sugarcane plantation and other projects in Ghana as a way of supporting the country's agricultural sector.
Consequently, it has acquired 6,500 hectres of land at Kpong in the Greater Accra Region to cultivate the crop on a pilot basis.
The Brazilian Ambassador to Ghana, Mr Luis Fernando Serra, made this known when he paid a courtesy call on the Vice President, Mr John Dramani Mahama, at the Castle, Osu in Accra yesterday.
He said the project, which will provide jobs for more than 2,000 indigenes, will also serve as Brazil's contribution to the green revolution programme began by the government.
The Ambassador also announced plans by his government to invest in large-scale rice production in the country.
He said the gesture is to reduce the excessive importation of rice into the country, adding that small dams will be rehabilitated to help in the irrigation of the crop to reduce the over-dependence on rainfall for the cultivation of rice.
Mr Serra said that Brazil is also considering establishing a sheanut processing plant in the country to process about $80 million worth of sheabutter to serve the people back in his country.
The Vice-president, commended Brazil for contributing to Ghana's efforts at alleviating hunger and deprivation in the country.
Mr Mahama, who expressed concern over the huge rice imports by Ghana, said he will take up the gesture by Brazil to produce rice in the country.
He noted that Sheanut is one of the major crops that have the potential of improving the economic fortunes of people in the Brong Ahafo, Northern and parts of the Volta regions.
He said Ghana will use Brazil as a conduit to export shea-nut, stressing, 'We will do everything to move this project forward.'