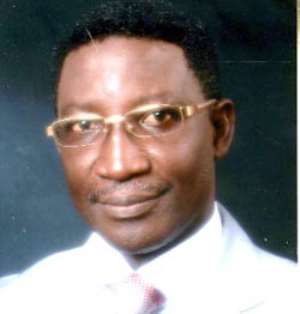 Evangelist Albert S. A Forson Evangelist Albert S. A. Forson, founder and president of Foundation for End Time Repentance has called on Ghanaians to help the youth develop their potentials.
"It is your responsibility as members of the church to help equip the younger generation with new skills, knowledge and ideals to help them to be responsible citizens in society," he remarked.
He indicated that some youth have potentials which they need to develop, but due to lack of funding they are unable to do so.
Evangelist Forson made this statement at an Ordination Service of the Assemblies of God (AG) Church in the Central Region.
He stressed that it is the responsibility of Christians to do the work of God by helping one another especially the poor in society, so as to attract the favor of God.
"We have helped ourselves enough. It is time for us to extend help to others who may need our attention and support to make a living."
The Evangelist also pledged to build a dormitory for the Southern Bible College situated at Kormantse.
Five pastors of the Assemblies of God Church were ordained as Ministers of the Gospel as part of the church's efforts at improving the quality of its human resource base.
They are pastors Emmanuel B. Akansey of Assin Breku Assemblies of God, Maxwell Kwasi Incoom of Living Waters AG, Daniel Abbam of Restoration Hour AG, Rebecca Okyere-Mensah of Saltpond AG and Janet Anyortey.
The General Superintendent of AG Ghana, Rev Robert Andoh indicated that ordination is very crucial in the life of a minister and the church.  
"The event reminds the church of the important role the shepherd plays and the need to relook at our commitment to the ministry".
He urged the newly-ordained pastors to focus on developing themselves by pursuing higher education, saying, "We must combine spiritual development and secular education effectively to equip ourselves for effective leadership".
Speaking on the theme 'Moving in the Power of the Holy Spirit', the General Superintendent challenged members to revive the operation of the spiritual gifts in their lives and the church.
By Linda Tenyah &  Sarah Afful