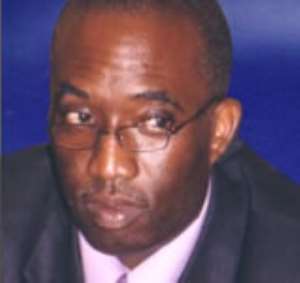 Mr. Joe Ghartey, former Attorney General and Minister of Justice has rebutted attributions to him by the former Chief Executive of the Ghana National Petroleum Corporation, Mr. Tsatsu Tsikata to the effect that there were 300 remand prisoners held illegally at the Nsawam Prisons.
According to the former Attorney General, the story Mr. Tsikata relied on was published on the front page of the Wednesday, 17th September, 2008 edition of the Daily Graphic under the headline 300 HELD ILLEGALLY - At Nsawam Security prison.
"The newspaper report clearly indicates that I was not the source of this story. Even a cursory look at the headline indicates that the statement cannot be attributed to me".
Mr. Joe Ghartey stated "these facts are available to all who want to verify except those who do not want to accept the truth".
"I will assume that the facts were not known to Mr. Tsikata and that is why he continuously attributed the statement to me. However, if after this c1arification he continues to repeat the untruth then I will leave the general public to judge his motive" Mr. Ghartey explained in a statement to the press.
The former Attorney General in setting the records straight indicated that the next day after the publication by the Daily Graphic, he held a meeting with the NGO, where it was agreed that together with the Ghana Bar Association (GBA) and lawyers from the AG's office they would immediately take action on the 300 remand prisoners that the NGO had reported on and this was also carried by the same paper in a follow up story on September 19, 2008.