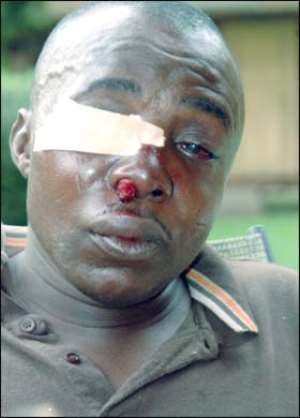 Alhassan Husseni
THREE PERSONS, one of them Abdul Latif, are in the grips of the James Town Police following a bloody attack by some supporters of the National Democratic Congress (NDC) on their New Patriotic Party (NPP) counterparts at the Konkomba Market in Accra.
The arrest notwithstanding, the seemingly unrepentant party supporters have vowed to continue tormenting their NPP counterparts until, as they put it, "they leave the Konkomba Market".
The incident which saw a certain Alhassan Husseini lose an eye, was a continuation of sporadic attacks by the NDC activists on their neighbours with whom they have been living at the sprawling slum and speaking the same mother tongue.
Tuesday's attack was started after some residents of the slum who participated in the Committee for Joint Action (CJA's) demonstration ostensibly against the presidential ex-gratia awards on the same day returned to the location.
No sooner had they returned from the demonstration than they unleashed mayhem on their neighbours identified as belonging to the NPP.
The action was characterized by the firing of firearms and brandishing of machetes with daring utterances like "our government is in power; nobody can arrest us".
Alhassan Husseini, who lost an eye, and another victim, were soaked in fresh blood when they turned up at the offices of DAILY GUIDE before returning to the Korle Bu Teaching Hospital for further attention.
An earlier visit to the facility was without adequate money and so they received only first aid. Madam Frances Assiam arranged for funding which facilitated a better management of their situation, especially the man with the damaged eye.
Three or so weeks ago a similar incident occurred in which an NPP supporter, a relation of the man who lost his eye, died.
The man who lost his eye in his narration to DAILY GUIDE said when the NDC supporters commenced the attack many of his colleagues fled but he decided to stay behind because, as he put it, he had not committed any crime and besides he was mourning his deceased brother.
That the killers of his brother have still not been apprehended by the Police is a source of worry to the NPP supporters, who think there is an element of lethargy on the part of the law enforcement agents in dealing with the case even as the NDC elements continue to display acts of brazenness.
Last night was particularly a scary one as the NPP supporters awaited an expected attack from their aggressors.
A Daily Guide Report