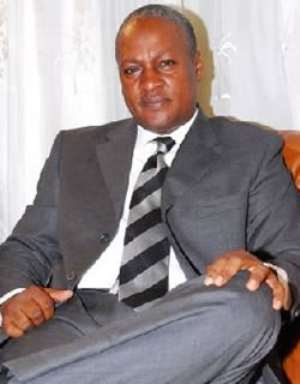 Vice President John Dramani Mahama, on Tuesday called on the African Union (AU), to pile up pressure on the coup leaders in Guinea and Mauritania to cede to constitutional rule.
He said the AU must make it impossible for people who use unconstitutional means to perpetuate their authority, to stay in office.
Mr Mahama made the call when he addressed the closing session of the 12th Summit of the Heads of State and Government in Addis Ababa, Ethiopia, on the theme: "Infrastructure Development in Africa."
He noted that, while the AU is making progress in persuading the military authorities in Guinea to step down, their counterparts in Mauritania are intransigent.
Mr Mahama, however, acknowledged that the Junta had announced plans to organise elections to enable Mauritanians to decide whether they prefer the military leaders to rule them or they should hand over to the previous civilian administration it overthrew.
The Vice President appealed to the government in Cote d'Ivoire and other stakeholders in the political stalemate, to restore the country to normalcy.
He said as neighbouring country, what ever affected the government and people had rippling effect on Ghana.
Mr. Mahama met with Mr. Esau Koffi, Togolese Foreign Affairs Minister, and asked him to convey to President Faure Gnassingbe, the desire of Ghana to deepen bilateral relations.
They also discussed the need for joint security and the expansion of the integration process in West Africa.
Mr. Mahama presented a special message to the Togolese President, thanking him for attending the inauguration of President John Atta Mills on January 7 in Accra.
He also met with Mr William Lacy Swing, Director General of the International Organisation for Migration, where they exchanged ideas on how to combat child trafficking and other offences that had to do with migration.
Mr Mahama noted that Ghana had passed a legislation to check child trafficking.
The summit of the 53-member AU concluded with the decision to transform the AU Commission into an authority with a broader mandate to pursue the African unity agenda.
The Commission, which comprises 10 commissioners would assume its new status in July during the next AU conference.