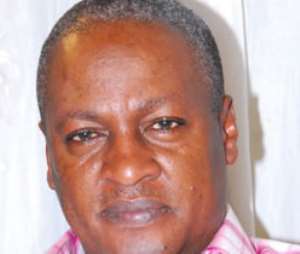 Vice President John Mahama
The Vice President, John Dramani Mahama has revealed that the previous Government of the New Patriotic Party (NPP) wasted a large part of the national budget.
"40% of the national budget went to waste due to mismanagement of national resources and lack of value for money," he said.
The Vice President made this revelation in Addis Ababa, Ethiopia where he is leading Ghana's delegation to the 12th Ordinary Session of the African Union (AU) Assembly of Heads of State and Government.
Mr. Mahama, speaking to journalists on the country's economy, did not specify the amount and did not also specify how the waste occurred.
But the state of the economy has become a contentious issue since the National Democratic Congress (NDC) took power after winning Ghana's historic elections in 2008.
The Vice President, however, gave the assurance that the NDC Government would not victimise any public official who served in the NPP administration, except those found culpable.
By December 2008, Ghana's inflation rate hit 18.1% and the cedi has depreciated against all major currencies.
As at Tuesday February 3, 2009, the cedi plummeted against three of the four major international trading currencies. The cedi dipped to the dollar, the euro and the CFA by 0.14GHp 1.73GHp and 0.04GHp respectively, but appreciated marginally against the UK pound by 1.16GHp, according to the Gold Coast Securities (GCS)-Cedi Index.
As a result of this alleged wasteful spending, the economy is running a deficit of 14% of GDP.
But the Governor of the Bank of Ghana, Dr. Paul Acquah has assured Ghanaians that the country "is not broke, but only going through some challenges."
Meanwhile, the World Bank and the IMF have both pledged to support the NDC Government to boost the economy back to health.
But without the full knowledge of the effects of the global financial meltdown and the expected impact on the developed world's ability to offer aid to developing countries, the challenges ahead could be daunting.
By Emmanuel K. Dogbevi