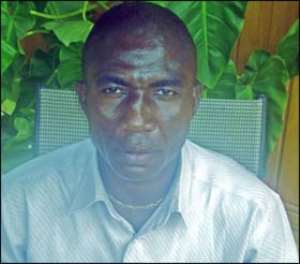 George Kofi Boateng George Kofi Boateng, a cargo clearing agent at the Kotoka International Airport in Accra who has become a victim of the ongoing political witch-hunting in the country, has asked the Bureau of National Investigations (BNI) operatives to stop harassing him.
The 41-year-old man said he had for the past week been arrested and detained at the BNI headquarters on suspicion that he was an informant of the New Patriotic Party (NPP) government under John Agyekum Kufuor.
Speaking to DAILY GUIDE yesterday, he said between last Thursday and yesterday, his office was searched and he was also interrogated several hours on end.
"They were forcing me to produce an identity card from the Office of the former President. Even though I insisted I never had any such document on me, they kept arresting me and trailing me all over the place," he said.
He said at the BNI headquarters, one John interrogated him for about three hours and quizzed him for being close to members of the former government.
Asked why he was being suspected, Boateng said he used to report some of the criminal activities of Customs, Excise and Preventive Service (CEPS) to government and that was why he had suddenly become their target with the change of government.
"As a citizen, I deem it my duty to report any wrongdoing to the authorities. Many of the CEPS officials do a lot of things that make government lose heavily on revenue side. I did report them a couple of times and in the process I became close to some government officials," he said.
He also named one popular official of the Ghana Airport Security, who was planted there by a top NPP guru, as one of those who are trying to win the heart of the new government by settling old scores and lying to the security agents.
"I am a citizen of Ghana, and I owe it a duty to act as a whistleblower to any government for as long as it will do the country good. I am not a politician, and I don't see why I should be harassed for helping my country. I want the BNI to stop harassing me".
In a related development, DAILY GUIDE is closing in on several corrupt and drug-related cases at the Kotoka Airport. The paper had so far gotten some confirmations from some suspects who are currently at a hideout in South Africa.
One other suspect, who is presently in custody over a huge Indian Hemp seizure at the airport, had also cooperated favourably.
For now, fingers are pointing at one Joe, a private security official at the airport, as being behind the series of drug deals recorded at the country's entry point.
By Bennett Akuaku