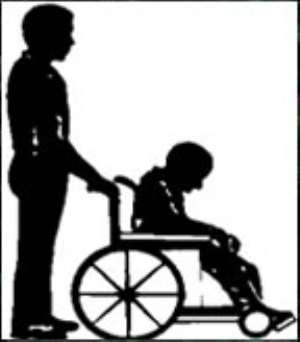 Mr Yaw Ofori Debrah, National President of the Ghana Association of the Blind (GAAB), has appealed to the government to consider people with disabilities in the all-inclusive administration.
He noted that people with disabilities have over the years been marginalized in society and discriminated against in employment opportunities.
He said discrimination against the disable must give way to encouragement so as to enable them to play positive roles in socio-economic development. "Since disability is not inability," he added.
Mr Debrah was addressing the opening of the 16th Annual Delegates Congress of the Youth and Students' Wing of GAAB in Kumasi on Thursday.
The three-day congress being attended by 60 delegates selected from all over the country is under the theme: "Advocating and Lobbying for the Educational and Employment needs of Blind and Partially Sighted Youth in Ghana, the Role of Government and other Stakeholders".
He regretted that many people with disabilities have also been denied their right to education and that the situation had seriously affected them and appealed to the government and other stakeholders to address the situation.
The National President stated that most of the disabled persons had been teachers before and advised them to enter into other professions including law, journalism, nursing engineering and others in their efforts to achieve higher academic laurels.
Mr Jacob Ature Adongo, National President of the Youth Wing of GAAB, said lack of textbooks and other teaching aids have affected blind students in their education and called on the Ghana Education Service and others to provide them with the necessary logistics in their education.
He commended the Danish International Development Agency (DANIDA) for its continuous support to the association towards the execution of its projects and appealed to individuals, churches and organizations to come to their aid at all times.
Mr Peter Obeng Asamoah, Director of GAAB, observed that the role of the youth in society was crucial to development and urged the youth of the Association to continue to play advocacy roles to champion the cause of members.
Mr Fred Sakyi Boafo, Kumasi Metropolitan Director of the Department of Social Welfare, called on the media to educate the people on the Disability Act (Act 715 of 2006).
Mrs Juliana A. Osei, Special Education Co-ordinator at the Kumasi Metropolitan Education Office announced that arrangements were far advanced for the Kwame Nkrumah University of Science and Technology (KNUST) to commence a special programme for people with disabilities in September 2009.
She urged them to take advantage of the opportunity and apply for the course.