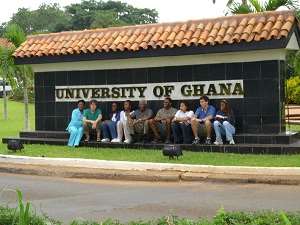 LEGON
The University of Ghana, Legon, is strategising to make its programme content more relevant to meet the developmental needs and challenges of the country.
Professor Yaw Oheneba-Sakyi, Director of the Institute of Adult Education of the University announced this in Ho on Friday at the sixth graduation ceremony of products of an HIV/AIDS Counselling and Care-Giving Course.
He said the University under its "open door policy" would continue to liaise with the various ministries, departments and civil society organizations to develop study modules needed for their optimal performance.
Professor Oheneba-Sakyi said the University would continue to design instruction contact schedules, including distance education to meet the special circumstances of its varied "clientele".
The four-month distance education course for HIV/AIDS caregivers and counsellors was organised by the Institute of Adult Education with the support of United Nations Fund for Population Activities.
It is intended to strengthen the nation's capacity to manage HIV/AIDS at the local and community levels.
Among the 18 new graduates made up of 14 females and four males, were health and social workers, teachers and self- employed.
Professor Oheneba-Sakyi said the total number trained so far under the programme was about 2000 adding that some of the trainees had established their respective HIV/AIDS care giving centres.
He said the crucial issue about the fight against HIV/AIDS, was the seemingly "intractable" stigmatization, discrimination and denial that carriers were exposed to.
Professor Oheneba-Sakyi told the new caregivers that overcoming the stigma and discrimination and reversing the further spread of the epidemic depended to a large extent on how the knowledge and skills they had acquired would be put to use.
Miss Magdalene Kofituo, Principal Adult Education Officer observed that there is existed a wide gap between knowledge acquired about the disease and how it was impacting on behaviours.
She said around 54 percent of respondents in a survey in the Volta Region said they would not sleep on the same beds with relatives with the disease.
Mr Emmanuel Asafo, a tutor at Akatsi Training College said visiting persons living with HIV/AIDS should be encouraged.
Togbe Dekortsu II, a sub-chief of Ho said the fight against the HIV/AIDS menace could only be won if seen as a multi-sectoral problem and a shared responsibility.