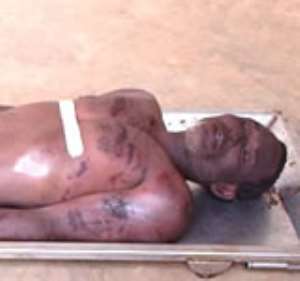 A lawyer in Tamale, Ibrahim Mahama, has mounted a crusade to help bring the killers of Alhaji Issah Mobila to justice.
The lawyer who recently returned from a self-imposed exile in Burkina Faso is said to have been the original target of Mobila's assailants.
Alhaji Mobila who was chairman of the Convention People's Party (CPP) in the Northern Region, died while in military custody on December 7, 2004 just after the general elections.
His death was followed by intense public pressure on government to find the assailants.
Even though Alhaji Issah Mobila died four years ago, his name continues to arouse different emotions in political circles following the bizarre circumstances of his death.
The ruling National Democratic Congress (NDC) and the opposition New Patriotic Party (NPP) continue to trade various accusations over the matter.
Narrating the incidents leading to the death of Mobila, Alhaji Mahama said on the date of Mobila's arrest, a band of armed military men also stormed his residence but did not meet him.
The men seeing no signs of his presence quizzed and molested his security man.
Alhaji Mahama said on sensing danger, he run for cover at Burkina Faso where he has been domiciled since the death of Mobila.
He said news later reached him that Mobila, his friend, had been arrested and killed while in military custody.
Although he is yet to launch the campaign for the arrest of the killers, Alhaji Mahama said his hunt will be intense.
Story by Fiifi Koomson