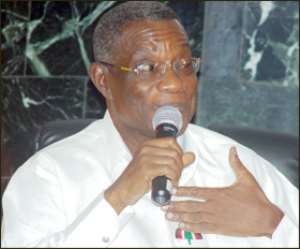 President John Evans Atta Mills President John Evans Atta Mills yesterday charged his economic team to recognise "justifiable continuity" and embody and preserve projects of the previous administration and other political parties that are compatible with his administration in this year's budget and other national planning programmes.
He reiterated the commitment of his administration for an all-inclusive government, adding that the government would deliver on the promises of the National Democratic Congress (NDC), the basis for which it was voted into power.
Opening a three-day meeting of actors in the preparation of the 2009 budget at Akosombo in the Eastern Region, President Mills urged the team of experts to come out with a budget that would be a solid beginner for 2009, the next fours and beyond.
The meeting, the first internal public assignment outside the Castle by the President since his inauguration, is being attended by members of the transition team, officials from the Bank of Ghana, Ministry of Finance, the academia and business community, and it is to examine policies contained in the manifesto of the government in the face of current economic reality and chart a way to bridge the gap.
President Atta Mills observed that the task of the team was not the easiest, judging from the challenges identified by the work of the committee of the transition team.
He, however, expressed confidence that the recommendation of the meeting would respond to the challenges and set a course for a better Ghana.
The President said policies and programmes currently in the pipeline initiated by the last administration which supported positive national development must be thoroughly reviewed, preserved and added to the new initiative that would be recommended.
President Atta Mills said the invitation that was extended to "friends from supporting political parties, industries and the academia was to begin the formation of an alliance of patriotic and well-meaning partners to help drive the national development programme.
"The sections of the Ghanaian community who are currently not represented here would be called to join in subsequent exercise in similar nature," the President indicated.
He reiterated that government's concept of inclusiveness involves human capital, intellectual resources and tested ideas.
President Mills urged the experts to come out with a framework for urgent public-private partnership that would curtail public expenditure, expand the economy, generate employment and meet the challenges of the current global economic crises.
The Chairman of the transition team, Mr. Paul Victor Obeng said the meeting was opportune as it consisted of Ministers-designate who would soon be vetted by Parliament for approval.
President Atta Mills later interacted with cheering crowds at Atimpoku and Kpong.  
GNA