Gladys Asmah, Biney in a brawl over defeat of NPP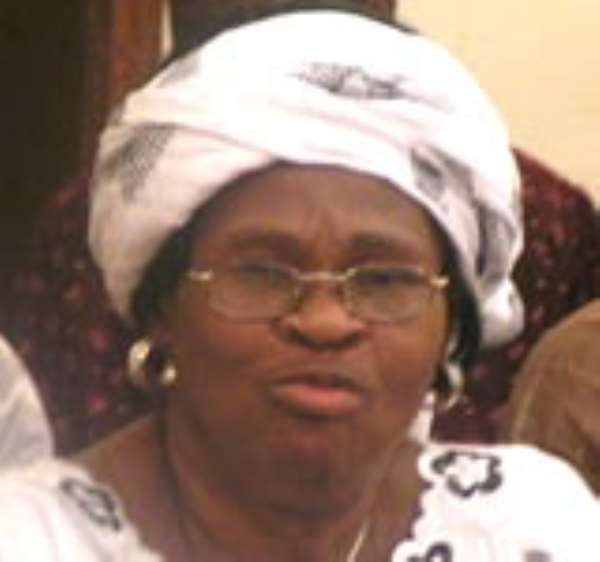 The outgoing Minister of Fisheries and a former Member of Parliament (MP) for the Takoradi constituency, Mrs. Gladys Asmah on Monday reportedly engaged the District Chief Executive (DCE) for Ahanta West, Mr. Kwesi Biney in a heated verbal brawl. Mrs Asmah, who was full of anger, allegedly slapped the DCE, but the latter has denied the claim.
The incident occurred at the Takoradi Beach Hotel where the flag-bearer of the New Patriotic Party (NPP) in the 2008 elections, Nana Addo Dankwa Akuffo-Addo was scheduled to address a press conference ahead of his thanksgiving campaign tour to thank the electorate of the region for voting for him.
According to sources, Mrs. Asmah on seeing the DCE at the venue of the programme went 'mad' and demanded to know the reason why Biney was hovering around the place. Before the DCE could respond, Mrs Asmah had already fired another salvo questioning the rationale behind the series of negative articles he had authored, which was carried by the media and thus washing the party's dirty linen in public.
The former Takoradi MP, after these series of questions ordered the Ahanta West DCE to leave the place because he was not a party member, but rather a CPP agent who was appointed by the NPP government as DCE.
Biney had reportedly accused the National Chairman of the NPP, Peter Mac Manu, Gladys Asmah and the Western Regional chairman of the party, Nana Owusu Ankomah as being the brain behind the defeat of the party in the just ended elections, because they failed to deal with the issue of pair trawling among others.
Nana Owusu-Ankomah, the Regional Chairman who was also at the venue, reportedly clashed with Biney over the same issue that Mrs. Asmah complained about.
Nana Ankomah confirmed the fracas in an interview with this reporter but failed to give detailed information on the subject.
Speaking in a telephone interview, Mr. Kwesi Biney denied that Gladys Asmah slapped him. However, he confirmed that the former Minister exchanged words with him over the articles he had authored.
According to Biney, Mrs. Gladys Asmah walked to him and questioned him over what she perceived to be negative articles he had written in the media, but she did not slap him.
However, an eye witness, Master Francis Adjei, an NPP youth activist from Sefwi, told this reporter that he was at the scene of the incident and can confirm that the Minister indeed slapped Biney.
The NPP youth activist who told this reporter and one broadcast Journalist, Oketekyie Amoo Asamoah of Rok Fm, at a round table informal meeting, maintained that he was ready to defend the story anytime and anywhere.