Israel is 'nearing Gaza goals'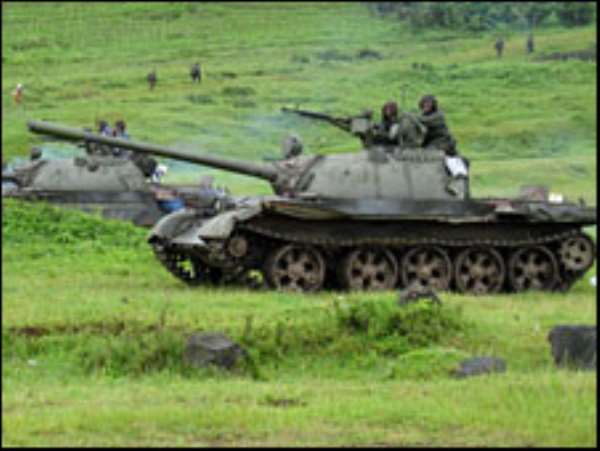 Israeli Prime Minister Ehud Olmert has said Israel is nearing the goals of its military campaign in the Gaza Strip, as he signalled it would continue.
He urged more patience and effort, as Israel's troops reportedly engaged in fierce fighting in Gaza City.
The Israeli army said reserve units were in place in Gaza, but this did not signal a "new push" against militants.
Palestinian medics say 879 people have been killed during the 16-day conflict. Thirteen Israelis have died.
Palestinian sources said 29 people were killed across Gaza on Sunday - 17 in Gaza City.
Israeli officials said at least 12 rockets were fired by Palestinian militants into southern Israel.
Two Norwegian doctors, who have been working in the Gaza Strip, say the main hospital is close to collapse, and that patients are dying because of a lack of specialist doctors and basic medical equipment.
Doctors Mads Gilbert and Erik Fosse said half of their patients were civilians, some of them young children with shrapnel and blast wounds.
They also said 12 ambulance staff had been killed in shelling, despite their clearly-marked vehicles.
'Impressive gains'
As Israel's cabinet met in Jerusalem to consider its next move, Prime Minister Olmert said: "This is a time to translate our achievements into the goals we have set."
He praised the military's "impressive gains" in Gaza, adding: "Israel is nearing the goals which it set itself, but more patience, determination and effort is still demanded."
Referring to last week's UN Security Council call for an immediate ceasefire, Mr Olmert said "nobody should be allowed to decide for us if we are allowed to strike". Both Hamas and Israel have rejected the UN resolution.
In Cairo, Egypt's state news agency reported progress in talks between Egypt and Hamas, without providing details.
Talks between Hamas and Egyptian intelligence chief Omar Suleiman were described by an unnamed intelligence official as "positive".
Former UK Prime Minister Tony Blair, now Middle East envoy for the Quartet - the US, EU, UN and Russia - is due to meet Egyptian President Hosni Mubarak in Cairo on Monday morning.
Confirmation that reservists have been deployed in Gaza came a day after Israel dropped leaflets and left phone messages warning Gazans to stay away from areas used by Hamas, saying that its operation would soon enter "phase three".
Late on Sunday, an Israeli army spokesman said: "More and more [reserve soldiers] have been incorporated into the operations. This is not to suggest that there is a big new push."
The Israeli army meanwhile denied deploying white phosphorus bombs in Gaza, after Palestinian medics said they had treated patients for burns caused by the munition.
Army spokesman Capt Guy Spigelman told the BBC that Israel "categorically denied" using white phosphorus in Gaza, saying other "smoke bombs and flares" were being deployed.
Israel began Operation Cast Lead as a six-month truce between it and Hamas unravelled. It comes weeks before a parliamentary election in Israel.
Israel hopes the scale of its operation will greatly reduce the number of missiles fired from Gaza onto Israeli towns, and also erode support for Hamas.