Let's put the elections behind us – Mahama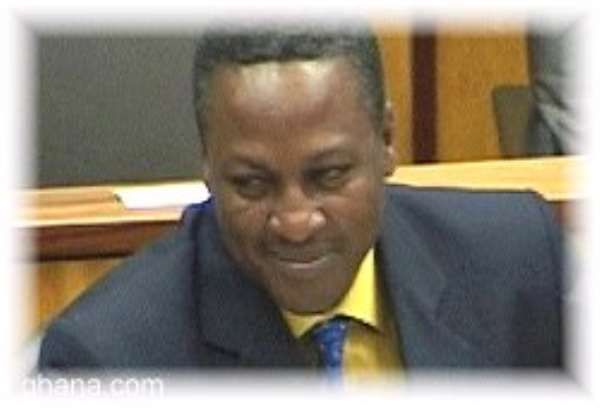 Vice President John Dramani Mahama has called on all Ghanaians to put election 2008 behind them and forge ahead in unity to help develop Ghana to become a real haven of investment destination.

"We are all one people with common cultural and national bounding of which peace and unity must be seen among us so that we would remain the envy of the rest of the sub-region."

Vice President Mahama made the call in Tamale on Saturday when he attended the final funeral rites of Alhaji Baba Gariba, father of Dr Sulley Gariba, Executive Director of the Institute of Policy Alternative (IPA) who died last week.

Mr. Mahama said, "There is no reason why we should fight one another after the elections. We are all one with a common destiny and we need to be each other's keeper and guard jealousy against the peace in the country."

He described the late Alhaji Gariba as a peace loving person who lived a life worthy of emulation.

"The old man during the second round of the elections told me we would win and advised me to continue to spread the truth to Ghanaians," he said and indicated that with the humility in which he lived his soul was already in Heaven.

Mr. Mahama said the NDC, under President Evans Atta Mills would not disappoint Ghanaians who have reposed the confidence in the party and voted it into power.

"What we are asking for are the blessings and cooperation of Ghanaians and with God's blessing, Ghana would become a prosperous nation and we would ensure that good governance is brought to the door step of the people," he said.

He assured Muslims in the country that the NDC government would ensure that Pilgrims were airlifted direct from Tamale to Mecca to perform Hajj and appointed Mr. Haruna Iddrisu (MP) for Tamale South to constantly be reminding Cabinet to facilitate the implementation.

The Vice President later paid courtesy calls on some traditional rulers within the Tamale Metropolis who prayed that, President Atta Mills would work harder to unite the country, which had been polarized over the years.

The occasion attracted high profile personalities such as Dr Edward Nasigre Mahama, Leader of the People's National Convention (PNC) and his wife Comfort Mahama, Alhaji Mohammed Mumuni, Leading NDC member, Mr. Alban Bagbin, Majority Leader in Parliament, Mr. Moses Asaga, MP for Nabdam, Alhaji Ibrahim Adam, ranking member of the NDC and other national and regional executives of the party.