'Abrokyire' Palaver: Re-Does Ghana Exist?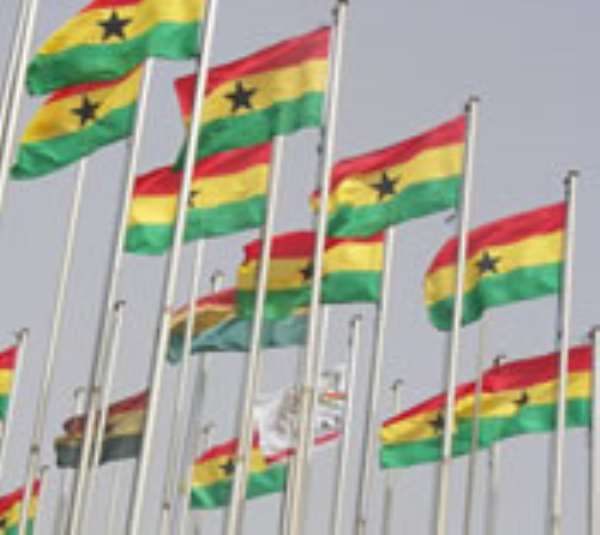 After the December 7 elections, I came across this thought-provoking article, Does Ghana exist, written by Oluniyi David Ajao. His analysis on the coverage or lack of it by the international media caught my attention immediately because this subject of international reportage of Africa has always been an area of interest moreso ever since I set foot in this country.

Having read that article, I decided to give America's topmost news organization, CNN, a very 'close marking' to see what they would put out about Ghana's elections if they decided to put out anything at all. I found two news stories, one of which was filed by the Associated Press (AP). I was not surprised that Ghana deserved two stories but Zimbabwe deserved much more considering the fact that good news is no news to the media.
The coup in Guinea a couple of days ago following the death of Lasana Conte confirmed this further. On the Yahoo news page, maintained by the Associated Press, the news of the coup gained a 'permanent post' status just as it did on CNN. It was a story for CNN International or Inside Africa, where most African stories will end up, but for CNN world which is targeted at the American audience. Ever since the coup occurred, news about Guinea receives constant update and is given the "place of pride" on the network's internet page.
When it comes to Ghana's elections, not so much prominence but at least there was some mention. Okay so what did CNN say about Ghana's elections? I will reproduce portions of the two reports.
Queues form outside polling stations for Ghanaian election
ACCRA, Ghana (AP) -- Voters slept on the concrete sidewalks outside polling stations seeking to be the first to cast their ballot in Ghana's historic election Sunday, a vote that could solidify its place as one of the few mature democracies in Africa.
As the polls opened, they waited their turn patiently, their ID cards tucked into the folds of their colorful cloth. In the courtyard of a school, one man dragged himself to the voting booth on a walker, his ballot card in his mouth.
Voters in this coastal African nation are acutely aware of the responsibility they bear as they cast their ballot to elect their next president.
"The whole world is watching Ghana because Ghana is enlightened," said Beatrice Mantey, a retired schoolteacher who had sent her niece overnight to save her a place in line. "No matter who wins, Ghana has already won -- because whoever wins we will accept it," she said.
Flanked on one side by Togo, a nation ruled for 41 years by the same family, and on the other by Ivory Coast, a fractured state only now emerging from civil war, Ghana is a rare example of democracy.
Ghana presidential runoff set for December 28
(CNN) -- A presidential runoff election in Ghana will be held December 28, the nation's electoral commission announced Wednesday.
Voters went to the polls across Ghana on Sunday to choose a successor to President John Kufuor, who is stepping down after two terms.
"The significance of this election is that Ghana is going to tell the world, 'We understand the need for democracy and we can do it. We can get it right,"' said Akwasi Osei, a Ghanaian who is now a political science professor at Delaware State University.
With Ghana averaging 6 percent growth, roughly three times the global average, the ruling NPP Party is campaigning on a platform of continuity.
They point to the fact that during Kufuor's two terms in office Ghana has become an economic success story. Foreign investment has grown 2000 percent, while exports shot up from $1.6 billion in 2001 to $4.2 billion now.
Yet for all the statistics indicating success, many here say they have little to show for what economists quantify as progress. Much of the country has no electricity and even in the capital, the poor relieve themselves on the white sand beach because they have no latrines.
Regardless of who wins, Ghanaians are keenly aware of the example they set. Ever since 1957 when it became the first nation in Africa to declare independence from its colonial ruler, Ghana has had the weight of history on its shoulders. For Ghanaians, it's important that the election goes off without the all-too-common hooliganism, ballot stuffing and violence that continues to plague African elections.
Both news reports are undoubtedly about Ghana's elections. They both carry some concerns about why Ghana cannot afford to lose out if it is to maintain its image as a country that serves as a "rare example of democracy in Africa".
AP: I am not surprised that the AP decided to start off its story portraying the Ghanaian voter as not being enlightened enough to keep their voter identification cards in places other than the folds of our colourful cloth. It even goes further to describe how someone had his card in his mouth.
CNN: Typical representation of Africa by the international media is not lost out on CNN's news report which notes the successes chalked by the Kufuor administration but does not fail to add that for all the statistics "much of the country has no electricity and even in the capital, the poor relieve themselves on the white sand beach because they have no latrines".
Stereotypical news reporting or journalism is what the international media is noted for especially when it comes to the way they report about Africa. There is never a time when positive news about an African country is reported without referring to a war that once broke out in the country or other references to ethnic, ancestral, and primitive links to the story.
It is as though Africa must in every case have some negative label to its news. It seems very out of place to talk about elections and somehow link it to people in the capital (which is seen as the place where civilization should be the norm) relieving themselves on white sands.
Is it possible that stories about Ghana's elections can be devoid of any label that has no direct bearing on the elections and what Ghanaians have achieved for their country and for Africa? While looking out for what CNN will carry about the run-off elections, I will attempt to answer Oluniyi's question that: yes Ghana exists but I am not sure how it exists in the minds of the international media.
For now CNN has made it clear what it will be looking out for by reminding Ghanaians that "it's important that the election goes off without the all-too-common hooliganism, ballot stuffing and violence that continues to plague African elections".
dorothy asare-kumah [[email protected]]