Elections not about mudslinging -Rawlings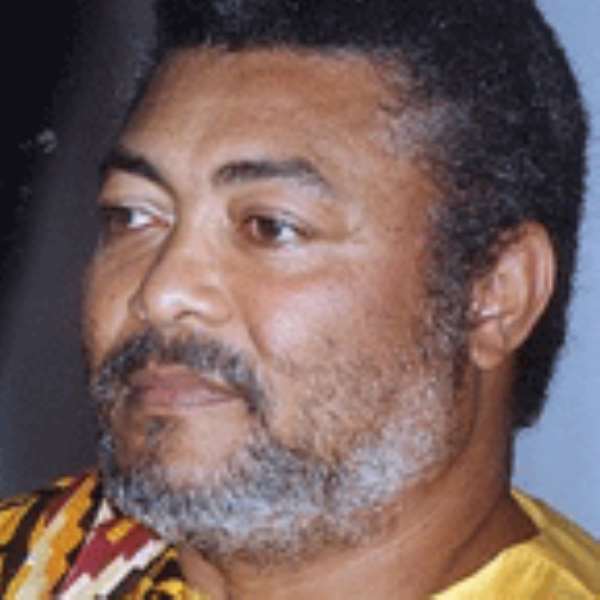 Former President J. J. Rawlings has expressed his gratitude to Ghanaians for proving to politicians that elections should be issue-based and not on mudslinging.
"Winning six out of ten regions and making significant inroads in all the other regions in terms of votes won, both on the Presidential and Parliamentary front, meant that Ghanaians had woken up to the reality that elections are about issues and not about mudslinging."
In a statement signed by his special aide, Kofi Adams, ahead of the Electoral Commission's declaration of the last Sunday's polls on Wednesday, Mr. Rawlings congratulated Ghanaians for the "huge voter turnout and exemplary level of comportment throughout the process".
Moreover, he urged Ghanaians "to give true value to this basic tenet of democracy by respecting the will of the people and avoiding acts calculated to manipulate the people's choice".
To preserve the stability and peaceful atmosphere in the country, the former President told Ghanaians: "While we do our national duty of calling for change let us eschew negative practices and refuse to be drawn into situations that will harm the peace we have worked so hard to maintain.
"…It has been said over and over again that it takes very little to destroy the peace and I call on all Ghanaians to remain strong and resolute in the midst of provocation and intimidation. Success does not come easy and will require a lot of willpower and perseverance."
He noted that the need for change did go down well with a number of voters; hence the ability of the National Democratic Congress (NDC) to win six out of ten regions and improving on its electoral fortunes.
"As founder of the National Democratic Congress I wish to thank all who called for change and supported the message of Professor John Atta Mills and the NDC and voted overwhelmingly to send out a strong message of equity for all."

The result of Sunday's parliamentary and presidential elections, Mr. Rawlings interpreted, was a reflection of the fact that Ghanaians would not countenance politicians who crave for power through the use of repulsive languages.
As the nation prepares for run-off come December 28, 2008, the NDC founder charged Ghanaians to wake up to the realisation that they have the destiny of Ghana in their hands.

"It promises to be another gruelling three weeks of electioneering and we need to gird our loins and remain resolute while we convince those who did not get our message or were confused about what positions to take."
Mr. Rawlings reminded Ghanaians that the process of enlightening them about their right of choice was initiated by the NDC government, which culminated in a peaceful transition in 2000 "at a time when the pessimists thought our party would violently resist change".

He called on all foreign interests -observers, media or governments - to respect the sanctity of Ghana's process and "avoid subtle actions or inferences" that tend to expose their support for one candidate or the other.
"Ghanaians are mature and independent enough to make decisions for themselves and it is important that any commentary on our elections is done with utmost circumspection and diplomacy," he remarked.

He appealed to NDC members and sympathizers to consolidate the party's call for change by working hard to "seal the change that we have started".
The Chairman of the Electoral Commission, Dr. Kwadwo Afari Gyan Wednesday afternoon announced neither of the leading contenders, Nana Addo Dankwa Akufo-Addo of the New Patriotic Party and Prof. John Evans Atta Mills of the National Democratic Congress could obtain the required 50%+1 votes needed for an outright win in the December 7 elections.
Out of a total valid votes of 8,465,834 cast, Nana Akufo-Addo polled 4,159, 439 of votes or 49.13% whilst Prof. Mills of also polled 4,056,634 votes or 47.92%.
Story by Isaac Essel