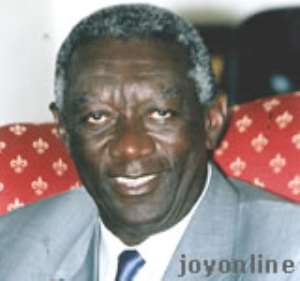 President J.A. Kufuor has instructed his solicitor, Mr J.K. Agyeman, former president of the Ghana Bar Association, to take the appropriate steps to clear his good name against allegations of impropriety leveled against him by the 'Weekly Standard' newspaper.
President Kufuor has described the story, published about a month ago, as false, aimed only to tarnish his hard-won reputation. He gave the newspaper a two-week ultimatum to either substantiate or retract and apologize, which has since expired.
The 'Weekly Standard' failed to respond and the president's latest move is aimed at clearing the air and to establish his innocence.