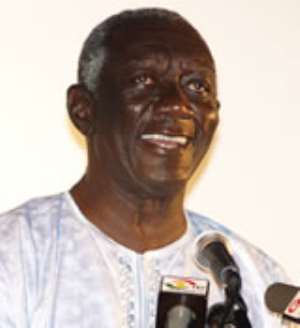 Professor Ohemeng Kessey, a retired professor of mechanical engineering at the Kwame Nkrumah University of Science and Technology (KNUST), has implored teachers to maintain high moral standards to retain the image of their profession.
He also tasked them to strive to give off their best in their work despite the challenges that confronted the teaching profession to help raise responsible and patriotic adults for the nation.
Prof Kessey, a former teacher of President Kufuor at the Prempeh College said this when he launched six poetry books and his autobiography at the Great Hall of the KNUST in Kumasi at the weekend.
The books have the titles: "Everywhere Around Me", "Sleep Sound", "Cats and Miaow-Miaow", "Take Steps Slowly", "Dogs and Wo-Wow" and "Nature's Time Birds".
His autobiography, which is in poetic verses, chronicled his life history, beginning from his basic school days to his professorial status.
Prof Kessey, 82, said "I look back with pride at my Prempeh College days where I taught some prominent figures like President John Agyekum Kufuor, Daasebre Osei Bonsu, Mamponghene, and Juabenhene, Nana Otuo Sereboe, among others".
He stressed the need for teachers to be concerned about how they could raise pupils and students to become responsible leaders in future, who were capable of leading Ghana in all spheres of life and development.
He said the literary works in poetry deals with rhymes and useful lyrics for schools and that he hoped the books would serve as a source of motivation for students.