National armouries need special protection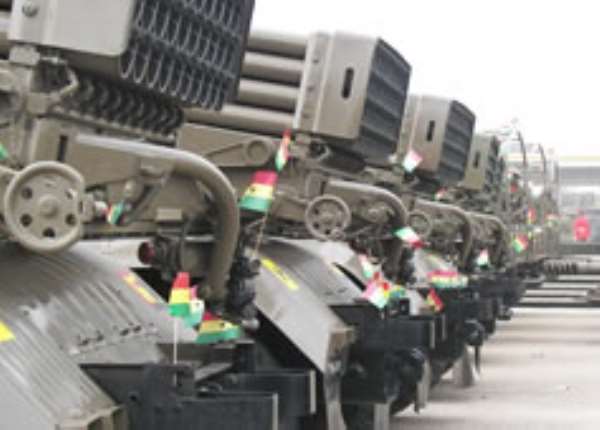 With barely two weeks to the December polls, personnel tasked with security of national armouries have been asked to discharge their duties with a high sense of patriotism, nationalism, self devotion and self-sacrifice, to protect the armouries from pillage.
This comes in the wake of reports suggesting that a major source of illicit weapons fuelling conflicts are leakages from state-owned stockpile.
"Indeed the issue of small arms control should no longer be confined to the guns in the hands of civilians but to members of the security services as well," said Deputy Defence Minister, Mr Willam Ofori Boafo on Monday.
"There is a perception that some unpatriotic members of the security forces illegally, at times, lease or sell their weapons and ammunitions to outsiders."
"If this is true, I consider it the most irresponsible act", he said, adding that countries plagued by gun proliferation experienced high levels of armed violence that undermined and threatened economic and political development and unity.
"Ghana cannot afford to be an exception," he said, at the opening of a three-day workshop on stockpile management for security services at the Ghana Armed Forces Command and Staff College at Teshie near Accra.
It is being organized by the Ghana National Commission on Small Arms (GNACSA) with support from the UNDP.
The workshop aims to promote the security of weapons in the national armouries as part of the GNACSA's efforts at reducing the proliferation of small arms and light weapons and armed violence in Ghana.
About 55 participants drawn from all the security services are attending the workshop.
Mr Ofori Boafo urged the participants to consider their role, obligations and responsibility as very crucial and important to make Ghana safe for the present and future generation.
"In all things, at all times you must think first of what Ghana would gain.
"Let us try to keep Ghana as a beacon of prosperity, peace and tranquility in an unstable sub-region."
Nana Obiri Boahene, Minister of State at the Interior Ministry, also urged the security services to take the fight against illicit proliferation of weapons seriously because they undermined a country's ability to maintain and sustain peace and stability.
He called on them to be proactive in their efforts to consolidate the nation's stability to insure society against tension and conflict, which are major impediments to sustainable development.
"The relative peace in Ghana should not be taken for granted and the absence of armed conflict does not mean the absence of conflict," he said.
Mr Daouda Toure, UN Resident Coordinator, applauded government's continuing efforts in effective stockpile management and responsible surplus disposal of small arms and light weapons.
He said the UN would continue to support Ghana's concerted efforts to stamp out proliferation of arms within the country and the sub-region.