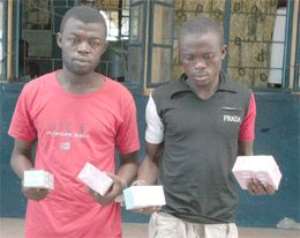 > Two Held Over Fake Currency
The two men display bundles of the fake currency The police at Sefwi Wiawso have arrested two young men suspected to be dealing in fake new currencies in the area, while their two accomplices managed to escape.
The names of those arrested were given as Kofi Gyamfi Gyimah, alias Balaskie or Rashid Iddi, 24, a welder, and Ernest Addo, 25, a pineapple seller.
Those who managed to escape were Frimpong, alias Joe Kumoh, and Kofi, both residents of Kumasi.
The fake new currencies found on them were equivalent to ¢280 million.
Briefing the press in Sekondi, the Western Regional Commander of Police, Mr Kofi Duku Arthur, said on September 17, 2007, the police at Sefwi Wiawso had information that occupants of a BMW saloon car, with registration number GR 557 C, were carrying fake new Ghana cedi notes and were heading towards Sefwi-Asawinso from Kumasi.
He said the police, therefore, mounted surveillance to apprehend the suspects, adding that at Sefwi Camp along the Sefwi-Wiawso-Asawinso highway, the police intercepted the suspected vehicle.
He said a search on the vehicle revealed eight bundles of paper cut to the size of GH¢5 notes and another eight bundles also cut to the size of GH¢1 notes.
According to the Police Commander, GH¢5 and GH¢1 notes believed to be genuine notes were placed at both ends of the bundles.
Mr Arthur said a further search on the suspects revealed two Nokia cellphones, one NEC cellphone, a mobile phone battery and a bunch of keys.
He said the BMW, which was being driven by Kofi, had been impounded.
The Regional Police Commander said when the suspects were interrogated, Addo said he was introduced to the business of distributing fake currencies by Gyimah in Kumasi when the latter bought GH¢1 worth of pineapple from him and paid him with a fake currency.
He said when he (Addo) raised an alarm, Gyimah quickly replaced the money with a genuine note and succeeded in going into terms with Addo to assist him to get enough money to boost his pineapple business.
He explained that Addo proposed that Gyimah and his accomplices join him to Sefwi-Dwenase with some of the fake currencies to be sold to a cocoa purchasing officer who was ready to buy and that it was in the process that they were arrested.
Mr Arthur said on September 19, 2007 the suspects were arraigned before the Bibiani Circuit Court and remanded in police custody.
He said efforts were being made to apprehend the other two suspects who escaped arrest.
Story by Kwame Asiedu Marfo
search archives
Keywords:    
 Issue date:    
  ·  Type either Keywords, Date or both.
  ·  Date examples: 5/30/02, >5/30/02
http://www.gse.com.gh
Weather Forecast | Weather Maps http://www.accuweather.com/index-forecast.asp?partner=netweather&traveler=0&zipcode=AFR http://www.accuweather.com/maps-satellite.asp?partner=netweather
CurrencyConverter
^Top #top
  Copyright © 2008   Graphic Communication Group Limited .  All rights reserved.   http://www.bulletlink.com ^Top login.asp #top