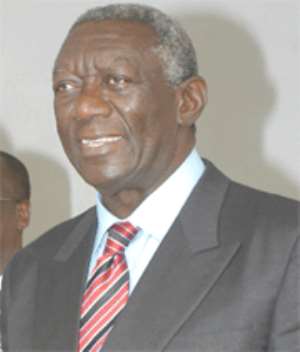 President John Agyekum Kufuor on Monday inaugurated government-private sector "Fleet Renewal Project" aimed at increasing the fleet of buses and providing safe, efficient and affordable road transportation services to Ghanaians.
The project is in honour of a promise made in 2001 of changing the face of transportation in Ghana.
The project, which is a joint-investment partnership involving J.A. Plant Pool Company, Agricultural Development Bank, Inter-Continental Bank and the Ministry of Transport, is also to enhance the capacity of the road transport sector with the opportunity offered by Yutong-China, manufacturers of the buses.
Beneficiaries of the 250 new inter-city Yutong buses at a total cost of 11 million dollars would be individuals and members of the Ghana Road Transport Coordinating Council. Payment for the buses would be made over three years.
President Kufuor said the Yutong buses were made to the country's specifications to make them durable and in not too distant future, buses would be assembled in Ghana.
"This should make them more affordable and therefore more accessible to a greater number of transporters. In the meantime, I commend Yutong for sponsoring some Ghanaian mechanics for training in China," he said.
He said Ghana was on the threshold of an economic and industrial take-off and called for the improvement of work ethic and general discipline within the society and workplaces.
These, he said, were the ingredients of productivity without which investments will fail.
He assured development partners that Ghana was open to all genuine investors whose goal was to achieve mutual beneficiary outcomes on investment for themselves and Ghana.
Dr Richard Anane, Minister for Transport, said the sorry sight of travellers marooned on the road corridors due to the frequent breakdowns of vehicles would be a thing of the past.
Of the 250 buses, 175 have 51 seating capacity and 75 of them have 33 seating capacity.
The buses are fully air-conditioned, have video facilities, all seats are provided with seat belts and the suspensions have been also reinforced to suit the Ghanaian environment.
He said adequate arrangements had been made for the supply of spare parts for maintenance, adding, "A maintenance agreement has been made part of the arrangement".
Dr Anane commended the financial institutions for their collaboration and called on others to emulate them to enable government to promote its intention of promoting private sector development.
Mr Isaac Krampah, Acting General Manager of J.A. Plant Pool, said through the partnership with Yutong, Ghanaian mechanics had been adequately trained and resourced to provide valuable after sales services at their centres in Accra, Kumasi, Tamale and Takoradi.
"Plans are far advanced to make our presence felt in the rest of the regions of Ghana."
He expressed Plant Pool's appreciation for the partnership and pledged their continuous contribution of their quota to the development of the country.