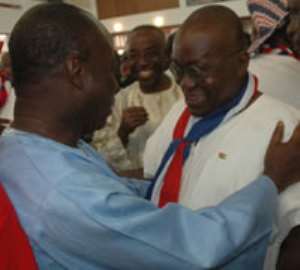 Nana Addo Dankwa Akufo-Addo, the New Patriotic Party (NPP) Presidential candidate, on Friday pledged that an NPP government under his leadership would transform the Takoradi Port into a major modern facility in the West African Sub-region.
He said already facilities at the port were being upgraded to turn it into a commercial, export oriented and oil terminal.
Nana Akufo-Addo was addressing port workers, at the 2006/2007 Ghana Ports and Harbour Authority (GPHA) Best Worker Awards Day, at Takoradi, as part of his two-day campaign tour of the southern part of the Western Region.
He said feasibility studies on the expansion and modernisation of the facility had been completed and management of the Port was studying the report to enable it come out with recommendations.
Nana Akufo-Addo said it was essential that oil exploited in the region was exported through the Port rather than through Cote d'ivoire or any other neighbouring country.
He urged the workers to support the expansion and the modernization programme to re-vitalise the Port for the creation of more jobs and wealth, which would be the target of his government.
Nana Akufo-Addo also urged them to support government's socio-economic development programmes.
Source: GNA