Police foils clashes at UCC campus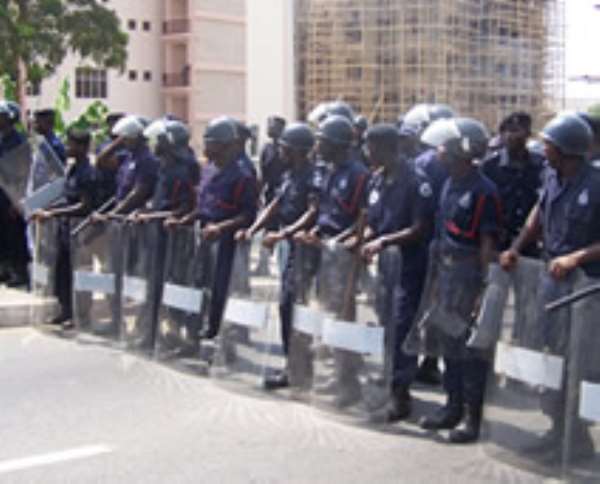 The presence of heavily armed police men foiled what would easily have been total chaos and anarchy at the University of Cape Coast, venue for the transfer of votes.
Joy correspondent Kojo Nyako reports four heavily built men arrived in NDC pick up, shortly after students of the Ola training college arrived to effect their transfer of votes.
Protesting the presence of the students to the electoral officers, another batch of heavily built men arrived numbering about 30 and believed to be supporters of the NPP.
Tension mounted as both sides looked on, restrained by the armed police men present.
According to Kojo Nyarko, no skirmishes were recorded even though fear gripped many of the students present.
Earlier in the week, some students of the university believed to be members of TESCON, NPP wing in the university, were allegedly assaulted at the electoral office in Cape Coast when they attempted to transfer their votes.
Kennedy Agyapong MP for the Assin North constituency threatened to resist any attempts by the NDC supporters to stop the TESCON members from transferring their votes.
This prompted the setting up of a centre in the University for Students to transfer their votes.
The regional head of the EC says the students of the Ola training college should have sought for a centre to be created for them, since the transfer centre on the UCC campus was only for students of the University.
Some indigenes say the students have always determined the choice of parliamentarians in the region, something they will not allow to happen in the coming election.
The Central Region is home to many high profile senior and tertiary institutions, drawing students from different regions in the country and who are also entitled to cast their ballots.
And with the constitution allowing for vote transfer, the students have always voted in the parliamentary and presidential elections in the region, creating tensions on many occasions.
In the 2004 polls, the ruling NPP secured 16 of the 19 seats, with the NDC and CPP winning two and one seats.
With some 23 days away from the December polls, tension is mounting as to which of the party's would ride on the student population in the region to secure majority seats.
Meanwhile the current voter transfer exercise is scheduled to end on November 17.
Listen to the report filed by Richard Kojo Nyarko in the attached audio.
Story by Nathan Gadugah