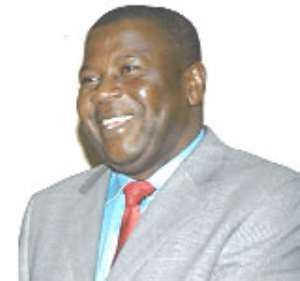 Vice President Alhaji Aliu Mahama, on Friday, represented Ghana at the Fourth Africa Forum of the Partnership with Africa Initiative, in Nigeria's capital, Abuja,
The forum aims at forging an even path of development and co-operation between Africa and the industrialised nations.
The three-day conference, on the theme: "Barriers to Partnership-and how to overcome them," is co-hosted by Nigeria President, Umaru Musa Yar'Adua and his German counterpart President Horst Kohler.
Alhaji Mahama will play an active role in the plenary discussion on the topic: "Barriers in the Political Sphere," and join his counterparts on Sunday, November 9, to address a press conference to shed light on the outcome of the closed-door deliberations.
President Kohler initiated the forum in co-operation with German-based ZEIT Foundation and Gerd Bucerius.
More than 50 selected eminent persons with background in politics, business and civil society would look at the barriers that Africans and Germans in particular, see as stumbling blocks to forging genuine partnership.
Heads of State from Burkina Faso, Liberia, Ethiopia, Rwanda, are expected at the forum.
The maiden conference took place in Germany in November 2005, the second in Ghana in January 2007 and the third in November 2007 in Germany.
President Kohler who set the tone for the forum said the event was necessary to facilitate the unavoidable global necessity of inter-dependence to deal with challenges like the financial crises and global warming.
He said differences in culture, opinion and other areas of human endeavour should produce the wisdom that would serve the common good of humanity.
President Yar'Adua said the German-Africa forum was a steadfast pursuit of transnational co-operation and the discussion of African development challenges.
He called for a framework for genuine partnership and mutual co-operation between Africa and Germany.
Mr Bethuel Kiplagat, Chairman of the Kenya African Peer Review Mechanism, said one means of overcoming the barriers to Africa's development was to check the double standards of the developed world that tend to give different prescriptions to solve problems in the least developed countries.
He said, while the First World prescribed unbridled privatization and removal of subsidies in Africa, the reverse was often practiced at home.
Mr Manfred Lahnstein, Chairman of the Board of Trustees of ZEIT, said relationship between Africa and the advanced world was marked by prejudice and cliché.
He suggested the need for a strong domestic capital formation in Africa, in order to avoid some of the pitfalls of the current financial crises.
Alhaji Mahama was on Wednesday met on arrival at the Nnandi Azikiwe Airport in Abuja, by his Nigerian counterpart, Mr Goodluck Jonathan.
Alhaji Mahama, who was accompanied by Ms Shirley Ayorkor Botchwey, Deputy Minister of Foreign Affairs, NEPAD and Regional Integration, interacted with the local Ghanaian community including Dr. Mohammed Ibn Chambas, President of the ECOWAS Commission, where he assured them that government is doing everything possible to ensure peaceful and transparent elections in December.