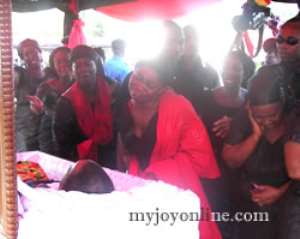 A state funeral has been held for the late Minister of Finance and Economic Planning, Kwadwo Baah-Wiredu, who died on September 24 in South Africa after a short illness.
Baah-Wiredu, 56, left behind eight children.
President John Agyekum Kufuor, Vice President Aliu Mahama, the Speaker of Parliament, Rt. Hon. Ebenezer Sakyi Hughes, Her Lordship Theodora Georgina Wood, Chief Justice and several ministers and parliamentarians were at the forecourt of the State House to honour the memory of the late minister and MP.
Several groups, including the Judicial Service, the Ministry of Finance and Economic Planning, the Security Services, the clergy, family and friends poured out in their numbers, and also poured out their hearts for the late affable, down-to-earth Baah-Wiredu.
Many among the mourners wept uncontrollably as they filed past the body of the late minister. Strong man Stephen Asamoah Boateng fought back tears as he struggled to make the short journey between the tent that housed the body and his seat.
He emerged from filing past the body with tear-filled eyes and could barely respond to greetings from friends and colleagues of his who tried to speak with him. But many others, including some media paparazzi assigned to cover the event, could hardly manage the pain as tears rolled down their cheeks freely. Hon. Akua Sena Dansua, NDC MP for North Dayi, was helpless as she filed past.
President Kufuor in a tribute read by Papa Owusu Ankomah, Trade Minister, extolled Baah-Wiredu's many virtues, including his high sense of humour, humility and selflessness, which led to the late MP to be appointed the first minister (Local Government Ministry) in President Kufuor's administration.
The late minister's wife, Mrs Margaret Baah-Wiredu, who later led some of the children to lay one of four wreaths, wept bitterly, just as some male relations. His children in a tribute bemoaned their loss, but were also grateful that their late father touched so many hearts and lives than they could ever imagine, wishing his soul a peaceful rest in the bosom of his maker. Wreaths were also laid on behalf of the state, parliament and the finance ministry.