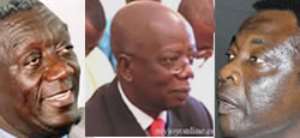 Government says it has no idea how former Security Minister, Francis Poku left the country.
Mr Poku was earlier this year given his marching off orders after allegedly putting up a defiant behaviour against President Kufuor.
Addressing Parliament Wednesday, however, Minister for Presidential Affairs Kwadwo Mpiani stated that government had not been in the know of Mr Poku's exit from the country.
Mr Mpiani was responding to a question by the MP for Bole Bamboi and National Democratic Congress vice presidential candidate, John Dramani Mahama.
Mr Mahama had asked about the circumstances surrounding the deployment of armed personnel to the residence of the former security minister and his subsequent departure from the country.
Mr Mpiani explained that the residence of Mr Poku's security was provided by the military contrary to the directive that the police should provide security for all members of the Executive, including the President.
He said the police deployment exercise at the residence of the former Security Minister was a normal exercise to ensure compliance with the national security provisions.
Mr Poku who is believed to be domiciled in the UK was dismissed by the President during an emergency meeting at the Airport residence of the President where the security boss was reportedly defiant.
The Minister is said to have told the President that he would not resign, threatening that the matter would hit the newsstands the following day.
President Kufuor had reportedly asked the National Security Minister where he got the finance for alleged cluster of plush mansions at the Trasaaco Valley in Adjiringano, a suburb of Accra, within the short period of time he was appointed Minister of National Security.
Sources also indicated that the President had expressed dissatisfaction over the minister's constant use of the press to defame other security heads after quarreling with them, which he said could jeopardize national security.
Newspaper reports in 2007 described how the nation's security had been divided between two factions: the Francis Poku-led faction and the Inspector General of Police Patrick Acheampong-led faction in a rivalry that lasted for months.
The President was said to have frantically ordered Mr. Poku to resign and hand over to his boss, Mr. Amoo Ghartey, the coordinator. "I won't resign. I will go to the press," responded Mr. Poku, according to the reports.
The President, shocked at the defiance, vehemently asked Mr. Poku to walkout of his presence as quoted in local Twi: "fri ha, fri me fie se wontie die me ka," which translates: "leave my house if you will not heed my advice."
The President then asked Ambassador D.K. Osei to issue a press release that the security minister had been relieved of his post with immediate effect.
Story by Fiifi Koomson
Joy Newsroom and The Chronicle contributed reporting