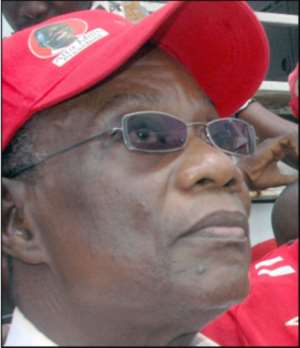 As the December 7 election reaches homestretch, National Democratic Congress (NDC) presidential candidate, Prof John Evans Atta Mills appears to have disappeared from the political radar, compelling observers to wonder where the old Law teacher might be.
Tongues have started wagging as to why the former vice president has suddenly gone underground just a day after the pulsating presidential debate, when all the other presidential candidates are up and doing.
John Dramani Mahama, Prof Mills' running mate, had told a congregation of journalists that his boss was out of town, but was silent on his destination.
DAILY GUIDE however learnt that the former vice president had made a quick dash to Cote d'Ivoire, from where he possibly picked a flight to his final destination.
 The curiosity of political observers has been heightened by the seeming usurpation of the campaign by party founder Jerry John Rawlings, who as at the weekend was in the Brong Ahafo region.
Prof Mills has not covered most of the regions particularly the northern sector, since he was elected two years ago.
He had spent three days to tour the three northern regions where he donated relief items to flood victims.
The NDC flagbearer was able to cover just 14 constituencies out of 39 in the Ashanti region during his recent visit to the area before he retired to Accra for the IEA presidential debate.   
The NDC presidential candidate put up a stressful performance at last week's presidential debate in Accra which saw his adrenalin level rising anytime he took his turn.
Given his already unimpressive state of health, he was said to have required some form of measured and supervised convalescence after exerting so much energy during the debate.
Some non-medical opinions have asked whether what they consider the unnecessary anger, which constantly built in Prof Mills during the debate, did not aggravate his condition.
Not even his running mate, John Dramani Mahama's hint that his boss was not in town when he represented him at an Editors Forum symposium for presidential candidates in Accra last Friday pointed at where he was holed up.
Mills' representation at the symposium by his running mate nearly marred the event as New Patriotic Party (NPP) bigwigs protested that only presidential candidates were expected and nobody else.
DAILY GUIDE has learnt that contrary to attempts by campaign managers of the NDC to present a clean bill of health for the presidential candidate, Prof Mills quickly dashed to Nigeria shortly after the debate for consultations with his trusted but controversial spiritualist, Prophet T.B. Joshua with whom he has held sessions on several occasions.
A spiritual confidant of Prof Mills, the highly rated T.B. Joshua is said to be the source of the house-to-house prescription campaign strategy tried by the NDC presidential candidate since last year.
The programme appeared to have been abandoned after a trial in some parts of Accra.
Pastor T.B. Joshua's Synagogue Church of All-Nations was in the news recently when Prof Mills' appearance for a special spiritual prayer to see the presidential candidate through his predicament became a subject of discussion in the local media.
The relationship between the Prof and the Synagogue has waxed stronger over the past few months, with the presidential candidate making quick dashes to the place for spiritual consultations as and when fatigue sets in.
Prof Mills' unclear position about spiritualism and mysticism have not been helped by his silence when the Ashanti Regional Chairman of the party, Daniel Ohene Agyekum openly invoked the name of a river deity to curse a number of entities including DAILY GUIDE .
The party founder, Jerry John Rawlings has on a number of occasions expressed his belief in consulting the river deity among other fetishes.
Although Koku Anyidoho, Communications Director of the Mills' Campaign Team has dismissed any possibility of an infirmed Mills and even declaring that the presidential candidate was in town and in his office, DAILY GUIDE learnt that he was expected to touch down yesterday from Nigeria or Cote d'Ivoire.
Always incensed when the Prof's health is discussed, Koku asked whether Kwaku Sakyi Addo's inability to act as moderator at the recently held Editors Forum symposium for presidential candidates can be attributed to infirmity as is being done to Mills.
 The status of Prof Mills' health has evoked mixed reactions from various elements in the country for a while now.
Whereas some think such a subject should be considered personal, others argue that since a presidential candidate seeks to lead the country should his or her party win the polls, such person's privacy is curtailed to a certain extent.
The second school of thought pointed at the situation in the US, where Senator John McCain presented a medical certificate about his health status for scrutiny.
Hints of an ailing Prof Mills came to light when he visited China for consultation from where he proceeded to South Africa for surgery.
Even at the time the matter was a guarded secret and NDC managers always put up spirited fights to parry anything suggesting that the old Prof had any health shortcoming, the matter was unearthed by a senior party member who was contesting the NDC presidential race with him.
Finally though, the cat was let out of the bag when Mills himself admitted that he left China because of language problems for South Africa to have his sinus condition managed.
Angry about his health status becoming a topic of public scrutiny, he once asked rhetorically: "Who does not have a hospital card? Is Mills a superman and should therefore not get indisposed?"
By A.R. Gomda