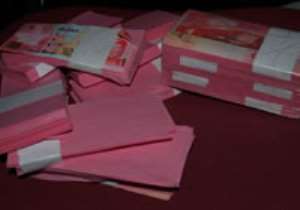 George Adusu, 36, and his accomplice, Raphael Hevi, 35, both traders have been arrested by the Hohoe Police for dealing in fake currencies.
Mr Kofi Adei-Akyeampong, Hohoe Divisional Police Commander, who briefed the Ghana News agency on the incident said Adusu was arrested at Hohoe on an Accra bound Tata Bus after using the fake notes to buy bunches of plantain worth GH¢50.00 from Ms Monica Klu, a trader at Nsuta Junction near Kadjebi in the Volta Region.
He said Ms Klu who only noticed the invalidity of the note after the transaction, beckoned a taxi to trail the bus en route to Accra via Hohoe, and reported the incident to the Hohoe Police.
Mr Adei-Akyeampong said Adusu was identified and a search on him revealed two more of the fake GH¢50.00 note with the same serial number VB 0352416, stashed in his back pocket.
He said another complainant identified Adusu as having bought plantain worth GH¢10.00 with a fake GH¢50.00 and received a change of GH¢40.00.
A third complainant, according to the Divisional Commander, alleged that Adusu bought GH¢400.00 worth of yam from him and paid him with eight of the GH¢50.00 fake notes, with the same serial numbers.
Mr Adei-Akyeampong said third complainant noticed the illegal notes only after spending GH¢105.00.
Adusu, who admitted the crime, mentioned Hevi as having given him the fake notes, leading to his arrest at Krobo Odumase.
Some fake notes in the GH¢50.00 denomination with same serial numbers were found on Hevi after a search.
According to Mr Adei-Akyeampong, the suspects would be arraigned in court soon.